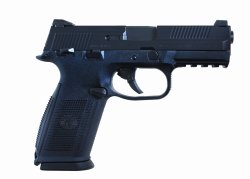 Despite what many think, this is not the first time that the Belgian FN group enters the field of polymer-framed, striker-fired pistols for service and defense; its first attempt, the "Forty-Nine" model launched in the early 2000s, however, can hardly be seen as a success; it had no real issues, and in fact it was quite a valid product, yet it was "just another" polymer-frame striker-fired, and back at the time the market for this kind of products was basically under Glock monopoly, with poor or no interest for alternatives. A revamping for new models, with the great success of pistols like the Croatian HS-2000 (a.k.a. Springfield XD) and the Caracal from the U.A.E., pushed FN to try again, this time taking as a basis the best features of the hammer-fired FNX and FNP pistols. The new striker-fired handgun, called the FNS, has been first showcased at the defense-oriented EUROSATORY 2010 expo in Paris (France), and has been launched on the international commercial markets this year at the SHOT Show in Las Vegas (Nevada). Now built for the Americal law enforcement and civilian communities in the FNH-USA facilities in McLean (Virginia), the FNS-9 and FNS-40 striker-fired autoloading duty pistols represent the pinnacle of the FN handgun performance, reliability and accuracy.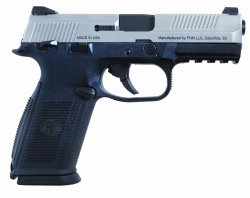 The new FNS features a highly-ergonomic frame design that includes an ultra-low bore axis to reduce felt recoil and two interchangeable backstraps to personalize the grip fit to the user. A MIL-STD 1913 underframe rail is standard for light attachment and an aggressive checkering grip pattern improves control under the harshest shooting conditions. The new FNS is fully ambidextrous, allowing the user to access and activate the manual thumb safety levers, slide stop lever and magazine release button with either hand from either side of the pistol. This ambidextrous design not only helps adapt the pistol to the user it makes the FNS easier to train on, qualify with and use effectively under stress.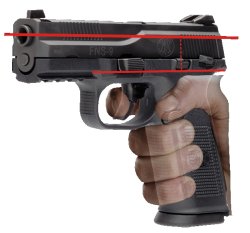 Standard features on the FNS include a hammer-forged stainless steel barrel, a forged stainless steel slide with front and rear cocking serrations, a full-length stainless steel recoil spring guide rod and FN's exclusive low-profile Deep-V™ three-dot night sights. The FNS-9 offers a 17-round magazine capacity and the FNS-40 holds 14 rounds, both come standard with three magazines and a locking hard case.
"The new FNS series of autoloading pistols was designed to be the most operator-friendly autopistol available intended to give America's law enforcement officers a decisive edge," said Ken Pfau, Senior Vice President of Law Enforcement and Commercial Sales for FNH USA, interviewed at the 2012 SHOT Show. "After five years of design development and nearly a half-million rounds of testing, the FNS stands ready for duty with any agency, large or small".