FNH USA LLC., the McLean (Virginia, U.S.A.) based branch of the Belgian FN Herstal conglomerate, one of the world's most active gun companies, has recently announced a future new addition to the family of FNS semi-automatic, polymer-framed, striker-fired pistols – the FNS-9 "Competition" model. In the final stages of development now, this new competition handgun was designed to fit the specific needs of competition shooters. Prototypes have been handled to several shooters to be field-tested in IPSC, 3-Gun and other major matches to be held in the U.S. this summer and production is projected to begin sometime in the January - April 2013 timeframe.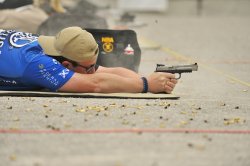 The new FNS-9 "Competition" handgun will feature a five inch barrel and special sights that will provide the shooter with a longer sight radius and a more precise sight picture, allowing faster shooting with greater accuracy. The added barrel length will also offer additional balance, with less felt recoil and muzzle flip, and a shorter muzzle blast.
Several members of TEAM FNH-USA are currently fielding prototype FNS-9 Competition handguns and will supply performance feedback to FNH USA's product management team. From testing at 3-gun matches to precision bulls-eye and action events like this year's NRA Bianchi Cup, which have already seen the deployment of the first prototypes, the F FNS-9 "Competition" has proven itself to be reliable and effective in competition environments.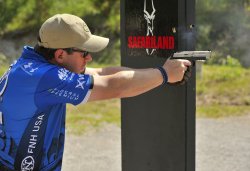 Aside the TEAM FNH USA, the FNS-9 "Competition" prototypes have also been issued to other shooters for testing. OMB Guns World Champion Dave Sevigny recently used the FN FNS-9 "Competition" model to take first place in the World Class Steel Northeast Regional Championship. He took the title of High Overall Iron Sight Division, winning six of the seven stages of fire.
The FN FNS-9 "Competition" pistol will feature most of the technical solutions that make the standard FNS models some of the best solutions for service and defense currently on the market. Featuring a 17-rounds metal magazine, the new FNS-9 "Competition" model is light in weight, tracks well shot-to-shot and is easy to stop and transition between targets. The trigger pull in the first working prototypes has been reported to be higher than five pounds, but is also consistent, and features a crisp and clean break.