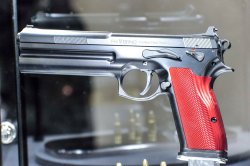 The FK Brno first showcased its astonishing pistol property at the 2015 edition of IWA; this year, the pistol comes back in its final version, and the closer it gets to mass production, the better it looks.
The FK Brno Field Pistol was originally conceived as a combat sidearm for military, law enforcement, but new for this year are news that a version of the platform is also planned for civilian sales, along with specifically civilian-oriented variants of its proprietary wonder-caliber.

Built around a machined stainless steel slide and frame, it sports a proprietary working system whose most prominent feature is the underbarrel countermass that helps to keep the recoil and muzzle climb levels down to those of a .45 ACP.
Two versions of the pistol exist: the Combat Field Pistol − sporting a with short beavertail and a small edge on the trigger guard − and the Sport Field Pistol, offering a long beavertail and an extended trigger guard edge  extended edge on the trigger guard. Planned civilian sport market applications include long range field  shooting, hunting, silhouette and combat sport shooting.
The FK Brno Field Pistol is chambered for a proprietary caliber dubbed the 7,5 FK – a bottleneck cartridge that will be available in three versions for civilian/sporting applications as well as in a specifically conceived, military-oriented variant (currently not yet for sales) that offers ballistic protection penetration and an astonishing level of accuracy − 1,5" groups at 100 metres! − while still retaining the same stopping power of a full-charge .44 Magnum.