By definition, airsoft replicas are reproductions of real weapons, so the prototype presented at the Nuremberg fair by Evolution International, an Italian company whose main activity is the production and distribution of airsoft replicas, aroused much surprise.
While introducing a wide range of very interesting airsoft guns at its booth, the one that most impressed the curious eye was an interesting prototype of a gun that is not a replica, but in some ways it is the exact opposite.
The Evolution International pistol: first rumors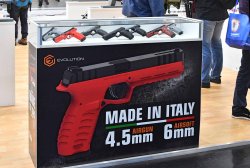 The Evolution International pistol was in fact born as part of a very complex project that will see the company produce the gun in the Softair version (in 6mm BB), in 4.5mm air gun and in 9mm too - i.e. a live firearm.
Entirely designed in Italy, the Evolution International pistol (the name is still provisional) is presented as a "full size" striker-fired gun of the latest generation, featuring a polymer frame with Picatinny rail on the dust cover, no manual safety and double-stack magazine. 
The slide, which runs inside the frame, is very low on the pistol axis and features serrations also on the front. The disassembly lever has an inverted direction of rotation. The sight are fixed, with a low-profile, adjustable rear sight.
At present the weapon is still at the prototype stage, so it makes little sense to focus on technical details. What we will certainly do is keep an eye on this interesting project and follow the developments until the end.