Ed Brown Products, Inc. has been producing 1911 parts since the late 1980s and high grade complete firearms since the early 2000s. This tradition of custom 1911-style pistols now continues with the addition of a Long Slide 10 mm model (LS10) to their Limited Series. 
A pistol ideal for long range target work and handgun hunting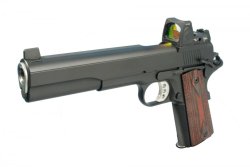 This new pistol is ideal for long range target work and handgun hunting. The increased barrel and slide length take advantage of the higher velocity of the 10mm, while the longer sight radius allows for tack driving accuracy.
As with all Ed Brown pistols, every component of the LS10 is fully machined from bar stock and held to the same rigorous standards.
Available with a Trijicon RMR, or a more tradition adjustable sight, and includes a French border, flush barrel crown, and flattened and serrated top of slide.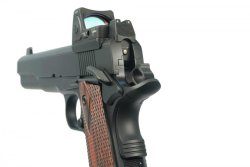 All of the main components are manufactured in-house under the direct supervision of the Brown family. Every part on every gun is then carefully hand-fitted by a master craftsman. 
"The addition of a long slide 10mm makes perfect sense when you consider how compete a line of custom 1911s we offer our customers.  We make every component in house so if we can dream of it, the guys can make it happen.  This new LS10 gives both hunters and long range pistol shooters a chance to get an Ed Brown pistol that meets their demands", comments John May, Sales and Marketing Director for Ed Brown Products.
Ed Brown LS10: specifications
The LS10 specification are as follows: 6" long slide, single stack Government model frame,  25 LPI checkering on forestrap and mainspring housing, traditional "square cut" front and cocking serrations, Trijicon RMR sight 3.25 MOA with tall night sights (adjustable windage/elevation that easily adjusts without tools. 
1 MOA per click – parallax-free). The frame is stainless steel. Weight with 9-round magazine is 43 oz. (1.22 kg). 
Being a high-grade, custom 1911, the LS10 has a fitting pricetag, starting at 3,995 USD.