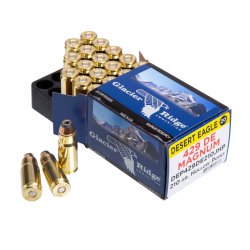 The legendary and imposing Desert Eagle pistol finally has a worthy cartridge of its own. Magnum Research, Inc, maker of the world renowned Desert Eagle pistol, is now offering a Mark XIX gun version chambered in the all-new 429 DE caliber. The latter uses a rebated rim bottleneck case and is based on the well-known 50 AE cartridge. According to the manufacturer, this cartridge has a 25% velocity increase and 45% energy increase over a 44 Mag (240 – 6-in barrel), with a velocity of 1600 FPS with 240 grain bullets and 1750 FPS with 210 grain bullets. The 429 DE features 30 degree shoulder angle and a neck long enough to properly hold and crimp a 240 grain bullet without set back under recoil. Since .429-in is the actual diameter of .44 Magnum bullets, this makes the 429 DE is the fastest .44 caliber pistol cartridge on the planet.
The 429 DE rounds are already available in 240 grain soft point load and a 210 grain hollow point load, both with a MSRP of 42 USD for a 20-round box. Bullets are supplied by Sierra and brass by Starline. At present Magnum Research is the sole supplier of 429 DE ammunition.
As for the gun per se, here at all4shooters we already talked about new Desert Eagle models in different calibers in the last weeks (see Desert Eagle XIX IMB in .357 Magnum and .44 Magnum and Magnum Research "Case Hardened" Desert Eagle).
The 429 DE version sports a stainless steel slide, a stainless steel frame with Picatinny bottom rail, and a 6-in stainless steel barrel with integral muzzle brake. Recommended price is almost as hefty as the gun itself at 2,143 USD, shipped with a .50AE 7-round magazine. The 429 DE pistols are already available in the US for order.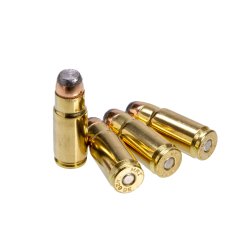 Magnum Research will also make available 429 DE Mark XIX spare 6-in barrels with Picatinny style accessory rails. They are compatible with any MK19 USA or Israel Desert Eagle Pistol with a wide .830-in rail on top of the barrel and use a 50AE magazine and bolt. Barrels are available in a variety of finishes: carbon steel with Black finish, MSRP 425 USD; carbon steel with Burnt Bronze Cerakote, MSRP 482 USD; carbon steel with Brushed Chrome finish, MSRP 529 USD; carbon steel with Polished Chrome finish, MSRP 529 USD; stainless steel with integral muzzle brake, MSRP 482 USD. (All the prices quoted are valid for the US market only.)