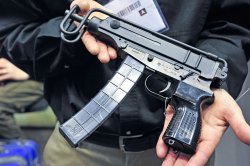 The Czech-based CSA - Czech Small Arms company is currently the sole manufacturer of semi-automatic, civilian-grade firearms based on the layout of the original Škorpion Vz.61 sub-machinegun, and offers stocked or stockless versions of the design in calibers such as .32 ACP, .380 ACP and 9mm Makarov; a full-automatic 9mm P.A.K. blank firing replica is also available to collectors, re-enactors and movie armorers.
At the 2016 edition of the IWA expo in Nuremberg (Germany), the Czech Small Arms company showcased its new .22 Long Rifle caliber Vz.61 – a pure sporting, leisure-oriented semi-automatic pistol. A straight blowback-operated design feeding through 20-rounds or 30-rounds translucent polymer magazines, the rimfire Vz.61 offers the same look and feel of the centerfire Škorpion variants, while allowing shooters to have fun all day long at a fraction of the cost.
The .22 Long Rifle caliber CSA Vz.61 is 273mm long with its stock upfolded ans 522mm long with its stock open, and comes with a 115mm barrel; the overall weight reaches 1,39 kilograms with a full 20-rounds magazine in.
A long-barrel, carbine version of the Vz.61 .22 Long Rifle design will also be distributed; the upper portion of the gun and the dedicated magazine will be also available as a conversion kit for existing Vz.61 pistols.