An optic ready 1911 Government-style pistol in 9mm, featuring a ported slide and barrel, ambidextrous safety, extended beavertail and Cerakote finish in tungsten/black, 20+1 magazine capacity, and also available in "Officer" and "Commander" sizes: Cosaint Arms releases its new CP Series Pistols.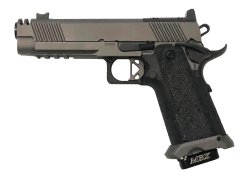 North Carolina-based Cosaint Arms is a U.S. manufacturer of premium firearms that has already become known among enthusiasts for its single-stack COS11 and double stack COS21 carry guns based on a modular configuration used by many of the leading competitive shooters worldwide and available in 9mm, .45 ACP, .40 S&W or 10mm (depending on the model).
The new CP series of pistols are a direct evolution of the COS21 models and can be considered high-end 1911s not just for their price – the MSRP in the U.S. for the COS21-CPFS is $2,800 – but also for their interesting features, starting with the uniquely designed ported slide and barrel. 
Cosaint Arms CP Series, performance for personal protection and competition use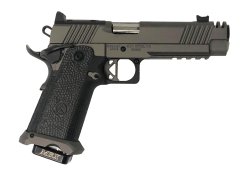 According to the manufacturer, this design not only reduces muzzle flip, but it also allows for a constant view of the dovetail front sight with green fiber optic insert, providing shooters with greater accuracy and improved shooting performance. "The ported slide and barrel really make a huge difference in target acquisition and keeping the handgun on target at a rate of 20-30% more effectively during firing. This equals better performance and really gives the shooter a strong advantage compared to the traditional barrel and slide design," says Greg Mooney, President of Cosaint Arms.
The COS21-CPFS is chambered in 9mm and offers a huge magazine capacity of 20+1 rounds. In the full-size version, barrel is 5"/127 mm long and the overall length is 8.5"/216 mm – very classic 1911 values. The straight-faced trigger and hammer are skeletonized. With a weight of 30.6 oz/867 g, the CP series is designed for maximum performance and control.
The CP series also includes standard features such as an optic ready design with cover plate, an aluminum frame, and a standard Cerakote finish. The extended thumb safety is ambidextrous. Moreover, the CP series is available in compact size (CS), mid-size (MS), and full size (FS) options, allowing shooters to select the best fit for their needs.
Intended use is personal protection or competition – even if carrying a full size COS21-CPFS actually entails some sacrifice...