The CMMG Banshee is a pistol/short barelled rifle family already available in a dozen different calibers. Now CMMG introduces what they define "the shortest and most compact Banshee to date". This new line-up is chambered in .22 LR and features a capped lower receiver with no buffer tube (receiver extension). Three models available: the 17.5″ long Banshee 100, the 18.1″ Banshee 200, and the most compact of them all, the Banshee 300, 14.7″ long with a 4.5" barrel. Magazine capacity is 25 rounds for all models.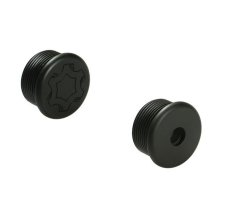 The ultra-compact, bufferless Banshee is made possible by CMMG's new .22 LR End Cap, specially designed to transform your .22 LR AR15 build. According to the manufacturer, "The .22 LR End Cap is the perfect accessory that shortens your .22 LR AR15 by replacing the need for a receiver extension and buffer assembly."
The .22 LR End Cap is compatible with all CMMG .22 LR AR Conversion Kits, as well as any AR15 that uses a dedicated CMMG .22 LR bolt carrier group and barrel – CMMG anyway states that even if the cap may work with other bufferless operating systems, they cannot guarantee compatibility, adding that to avoid bodily harm or firearm damage you should not use it with buffered operating systems.
Transform your .22 LR AR15 build with CMMG End Caps
CMMG's 22 LR End Caps can be installed in place of a receiver extension and buffer assembly – the "buffer tube" – by simply using a 3/8" hex wrench. The .22 LR End Cap is available in two variations: standard, with a smooth exterior and CMMG logo, and QD (quick-detach), which has an attachment point machined into the exterior for attaching a QD sling. The .22 LR End Cap with CMMG logo can also be purchased separately for $24.95 and the QD End Cap for $29.95.
CMMG offers Banshee lower groups and complete Banshee .22 LR pistols with the .22 LR End Cap preinstalled. The Banshee 100 Series comes with the .22 LR End Cap Logo and the Banshee 200 and 300 Series come with the QD End Cap. MSRPs on 95 for the Banshee 100, $874,94 for the Banshee 200, and $1024.95 for the ultra-short Banshee 300. All models feature a Cerakote finish and are available in several colors, including Midnight Bronze, Bazooka Green, Graphite Black, Flat Dark Earth, Slate, Burnt Bronze, Titanium, Stormtrooper White, Sniper Grey and OD Green.