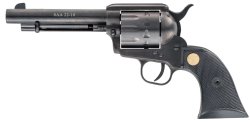 The Armi Chiappa company is not new on the replica market; as a matter of fact, this Italian manufacturer's core business used to be antique-style and Western-type replicas up until a few years ago, when the introduction of the Rhino revolver launched a "new wave" in the way the company makes business. Nowadays, the Chiappa Firearms brand is more widely known for its modern rimfire and centerfire replicas of already existing designs, and for its original creations in hunting, sporting and defensive firearms. And yet, good old habits are often hard to die, and more so if they have a couple of very good reasons to live on. As a matter of fact, Chiappa's new revolver does much more than just keeping a solid, noble tradition alive; it provides the look and feel of a legendary, much sought after 140-years-old revolver for a fraction of the cost, allowing experienced shooters to train or simply to practice leisure shooting without fearing to damage an expensive antique − or high-grade modern replica thereof; it provides a great "beginner's piece" to introduce newbies to Cowboy Action Shooting; and it helps to save on ammunition, which is getting increasingly expensive and hard to come by, especially in some calibers, due to the high demand on the still panicked U.S. market.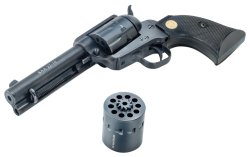 First seen at the 2013 SHOT Show in Las Vegas (Nevada), last January, and now available for purchase in almost all jurisdictions that allow civilian ownership of handguns, the SAA 22-10 revolver is distributed by both the Italian parent Company and its north-American subsidiary, Chiappa Firearms Ltd., headquartered in Dayton (Ohio). Keeping on with Chiappa's tradition of perfect replicas, the SAA 22-10 is entirely manufactured out of steel, so to provide the original weight and balance of the legendary .45-caliber Colt 1873 SAA, a.k.a. the "Single Action Army" or "Peacemaker" revolver. It's not the first time that Chiappa launches a rimfire, sporing variant of the 1873 design: a few years ago, the six-shot, .22 Long Rifle "Plinkerton" and 1873-22 (a.k.a. the Legacy Sports International "Puma" revolver) were launched on the global markets. But the new SAA 22-10 model has a couple new interesting features that make it stand on its own.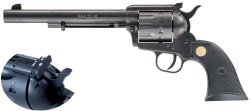 As its own name states, Chiappa's SAA 22-10 revolver sports a staggering 10-shots capacity; it feeds through a full steel cylinder, whose replacement is all that takes to convert the SAA 22-10 from the .22 Long Rifle caliber to the much more powerful and performant .22 WMR (a.k.a. .22 Magnum) cartridge. In order to provide an even more realistic feeling, Chiappa's SAA 22-10 revolver sports the original single-action trigger of the Colt 1873 SAA revolver, including the half-cock option that will allow the cylinder to spin and, if it's the case, to be removed and replaced with a pre-loaded one for faster reload. Similarly, the Chiappa SAA 22-10 rimfire revolver features the original Colt SAA's side-mounted port for shot-by-shot loading, and an under-barrel, spring-loaded ejector rod to manually remove spent cases from the cylinder.

This video has been hidden because of an external service (YouTube) that could potentially collect personal data.Allow video services for the duration of the visitAllow video servicesStop allowing video services
Chiappa's SAA 22-10 revolver is available with black plastic, ivory-colored plastic or Walnut grip panels, and in three different barrel lenghts: 4.¾", 5.½" and 7.½", all featuring a six grooves, RH, 1x16" rifling. The 4.¾" and 5.½" barrel versions feature the typical SAA's fixed front and rear sights, while the 7.½" variant, also known as the "Match", comes equipped with a fixed raised front sight and an adjustable rear sight. Prices vary from Country to Country, from distributor to distributor and from retailer to retailer, according to local laws and regulations, customs, taxes, and other factors. Further informations about local availability and pricing are best asked directly to the Chiappa Firearms company, or, even better, to your local distributor. The company maintains a comprehensive list of worldwide distributors on its website.