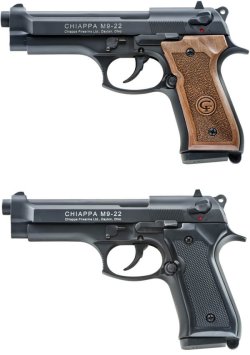 The "Chiappa Firearms" brand is owned and operated by the KIMAR, or "Armi Sport" Group, a multifaceted gun company located in Azzano Mella (Province of Brescia, northern Italy), and takes its name from the company's founder, mr. Ezechiele Chiappa, whose son Rino currently remains in charge of all operations, making it a truly family-run business. Despite being known for years mainly for its percussion, muzzleloading or metallic cartridge replica guns, its market share basically remained limited for a long time to the aficionados of said shooting specialties, that is, until a few years ago the company greatly expanded its products catalog by launching a whole new line of products, most important of all the revolutionary family of "Rhino" revolvers, engineered by the late Emilio Ghisoni of MA.TE.BA. fame and featuring a barrel alignment to the lowest (rather than to the highest) cylinder chamber in order to minimize muzzle climb − shortly followed by reproductions and modernizations of Winchester-based, lever-action shotguns and carbines, by rimfire versions of military-style semi-automatic rifles such as the MFour/22 (a .22-Long Rifle M4 carbine) or the M1-22 (rimfire version of the WW2 heritage battlehorse), and last but not least, a new line of rimfire semi-automatic versions of two military issue pistols that made history throughout the 20th Century: the M1911 and the Beretta 92F.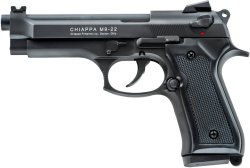 Chiappa's Beretta-based plinker is in fact the last in line to have been launched: a first glance was given at the 2011 SHOT Show in Las Vegas (NV), while the definitive launch on all international markets was made official at the 2012 edition. The first batches of the M9-22 pistol to be seen in the United States were also cause of a brief yet major case when it was found out that they had been equipped with an RFID chip embedded behind the left grip panel, a measure that the company and their importers had taken to better keep track of their products for shipment and maintenance, and that has just as rapidly been dropped and abandoned. The Chiappa M9-22 is a 1/1 scale, .22-Long Rifle rimfire replica of the Beretta 92F 9x19mm semi-automatic pistol that, after adoption in its previous (and later) forms by the Brazilian and Italian Armed Forces, became the "gun of the moment" in the 1980s U.S. by winning a controversial 1985 trial after beating out contenders from the US and international arms industry, surviving exposure to temperatures from -40°F to 140°F, being soaked in salt water, being dropped repeatedly on concrete, and being buried in sand, mud and snow, yet proving a MRBF (mean rounds before failure) of 35,000 rounds, the equivalent to five or six times the pistol's service life.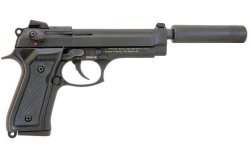 The Chiappa M9-22 is entirely metal-made, except for the grip panels that may either come in hardwood or black plastic, and is available only in black. Working by simple blowback operation, feeds through a single-stack 10-rounds magazine, and all controls are positioned and operate exactly in the same manner as in the original Beretta 92F, thus making it an excellent choice not only for inexpensive plinking or for shooting competitions, but for basic training as well. The disassembly procedure will also basically match the one of the Beretta 92F. The Chiappa M9-22 comes in two variants: a "Standard" one, with simple iron sights and either wood or plastic grip panels, and a "Tactical" one, with black plastic grip panels, high-visibility rear sights and tritium-insert front sight, plus an optional fake silencer. The overall and barrel length of the M9-22 also matches the measurements of the original Beretta model, albeit the recoil is virtually non-existent. Price varies according to the different models, yet it keeps under 300.00$ in the US.