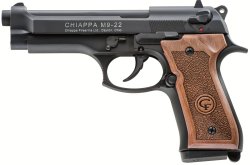 Chiappa Firearms , Ltd. - Marketing and distribution by MKS Supply
Chiappa Firearms continues the successful series of rimfire replicas: as of June 2012 the M9-22 is running in full mass production after a long period of limited manufacture. A tribute to the legendary Beretta M92-FS semiautomatic pistol, also adopted by the U.S. Armed Forces as the M9, the M9-22 is reproduced with the highest possible degre of fidelity, considering the change of caliber from the original 9x19mm to the more economical and versatile .22 Long Rifle rimfire cartridge, which it feeds from a single-stack polymer 10-rds magazine.
Already introduced to the public during several trade shows, including the SHOT Show, in the years 2011 and 2012, and distributed in limited quantities in the Italian, European and U.S. market while Chiappa completed tooling-up, now the M9-22 is in full stock and will hit gun stores in quantity.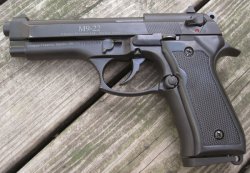 Chiappa Firearms , Ltd. - Marketing and distribution by MKS Supply
100% proudly Made in Italy by the ARMI CHIAPPA Group, although assembled at the subsidiary Chiappa Firearms Ltd. plant in Dayton (Ohio) for the U.S. market, the M9-22 retains all the features of the original 9mm pistol, including the technical layout and the controls positiom, but operates through a different working system (simple blowback instead of locked breech). Weight, total length and barrel length exactly match to the original model, even if the recoil is virtually non-existent. The disassembly of the Chiappa Firearms M9-22 also essentially corresponds to the original Beretta M92-FS field-stripping in both procedure and final results.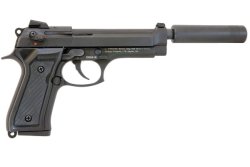 Chiappa Firearms , Ltd. - Marketing and distribution by MKS Supply
The M9-22 therefore represents a good low-cost training alternative for those shooters and professional personnel that will have to spend a lot of time with the "original" Beretta M92-FS 9mm pistol, in addition to being an excellent tool for plinking and basic marksmanship training.
The Chiappa Firearms M9-22 is available on the U.S. market for a MSRP that tops $369.00, while in Europe the MSRP range for the same model may reach around 300 euro: a very low price tag for such a high-quality product.