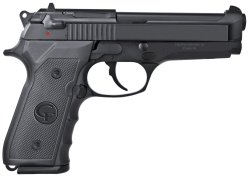 Now globally recognized as a dynamic and innovative reality in the world of sporting, hunting and defensive firearms, the Armi Chiappa group − headquartered in the northern Italian town of Azzano Mella and managing exports through its north-American offices headquartered in Dayton, Ohio (U.S.A.) − had a bunch of interesting news to give to the world of shooters and gun enthusiasts globally at this year's gun expos season. Most important of them all, Chiappa Firearms announced to have started collaboration with GIRSAN, a Turkish gun company, to launch a new line of centerfire, semi-automatic pistols that would encompass good quality, high performance, and budget price, so to meet the needs of sports shooters, private security officers and honest citizens seeking for an effecting mean to defend themselves, their loved ones, and their properties. Dubbed the PD line, where PD stands for "Personal Defense", Chiappa's new product line includes three new semi-automatic handguns, two in 9x19mm caliber and one in the quintessentially American .45 ACP chambering.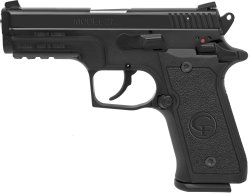 First and foremost is the Chiappa Firearms M9 "Government Model", patterned both in name, design, and technical layout to the Beretta M92-FS semi-automatic pistol, adopted by countless Police organizations and Armed Forces worldwide − including all armed services of the Italian government − by the U.S. Armed Forces as the M9, and privately purchased by sports shooters and otherwise average citizens around the globe. Sporting a double-stack, 16-rounds 9mm magazine, Chiappa's M9 "Government Model" pistol features some slight aesthetic differences from Beretta's original pistol. This includes a 4-inches barrel that doesn't protrudes significantly from the front end of the slide, differently shaped slide serrations and trigger guard, and finger grooves on the grip that should supposedly enhance user-friendliness and ergonomics.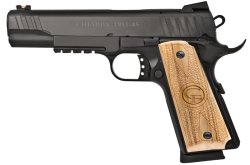 Second is the Chiappa Model 27; another no-frills "Wondernine", truly as simple and effective as it gets for home or property defense, the Model 27 sports a 15 rounds magazine and a 3.9" barrel in an overall 7.25" lenght. A locked breech, short recoil-operated semi-automatic pistol, the Chiappa Model 27 is built around an ERGAL aluminium alloy frame and a stainless steel slide − just like the Beretta M92-FS pistol and Chiappa's own M9 "Government Model" − and comes standard with polymer grip panels, a MIL-STD-1913 "Picatinny" railed frame, high visibility front post and rear sights which may be adjusted for windage, and an ambidextrous, frame-mounted manual safety and decocking lever. Chiappa's Model 27 pistol comes in both SA/DA and DAO variants − the latter one featuring a totally bobbed hammer.

This video has been hidden because of an external service (YouTube) that could potentially collect personal data.Allow video services for the duration of the visitAllow video servicesStop allowing video services
Third is Chiappa's rehearsal of a concept they've been handling for quite a while now, although this time in its original caliber. As a matter of fact, Chiappa is not new to 1911-type pistols, having been offering rimfire .22-caliber plinkers and trainers on the global civilian markets for years, but this time they have the 1911-45, a full-caliber, .45 ACP budget single-action semi-automatic pistol feeding through a single-stack 8-shots magazine. Following the trend of many modern 1911-based tactical and defensive pistols, Chiappa Firearms' 1911-45 features a large beavertail, wooden grip panels, skeletonized trigger and hammer, high-visibility sights, rear and front serrations on the slide, and a MIL-STD-1913 "Picatinny" tactical rail.

This video has been hidden because of an external service (YouTube) that could potentially collect personal data.Allow video services for the duration of the visitAllow video servicesStop allowing video services
Distribution of the Chiappa Firearms' PD line pistols started only recently in the United States with a single model − the Model 27, that is − with all others to follow in the coming months. All the Chiappa Firearms PD-line pistols should remain US-only items for the near future, with their prices firmly holding to the mid-to-lower bracket in their sector; not bad, considering how little money is left to spare for guns these days. For those who are afraid that the collaboration with a Turkish company may mean a generally lower quality, there's a reassurance: the Chiappa Firearms company should quality test all samples, and possibly arrange those little modifications required for their quality standards to meet Chiappa's own, some of the highest on the market today, despite what many disgruntled, narrow-minded individuals keep on blabbing about on Internet forums, especially in the United States, after the first batches of Chiappa's M9-22 and 1911-22 pistols were reported to feature some disappointing flaws − which by the way have all been addressed to and corrected by now.