More trouble seems to be ahead for Caracal International LLC. − headquartered in Abu Dhabi, United Arab Emirates − a well-known global manufacturer of polymer-frame, striker-fired service and defense weapons. Caracal International is currently undergoing a process of serious internal renewal, and in the meanwhile is launching a whole new line of pistols and a new line of rifles, for both civilians and Military/LE/Tactical/Professional applications, hoping to bolster sales that have been somewhat lower than expected − particularly in the United States, where Caracal products were first launched in 2012.
Maybe American shooters could have been partially right when they largely mistrusted Caracal. As a matter of fact, in March 2013 the company recalled several Caracal C compact semi-automatic service/defense 9mm pistols sold in the United States, with batch numbers ranging from SC188 to SC222, citing a wide range of malfunctions and defects encountered by U.S. owners, from slide breakages to accidental discharges due to malfunctions of the internal safety systems.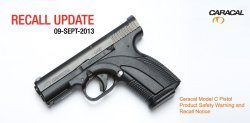 Caracal International, LLC
Last Monday − September 9th, 2013 − Caracal International LLC. announced that the company is issuing a total, global recall on ALL Caracal C pistols shipped and sold EVERYWHERE in the world, no matter if already sold and used or still awaiting sale. This means that shooters who already own a Caracal C and gun retailers who have them on stock will have to contact the Company or their local representatives in their respective Countries to arrange the return of the samples in their possessions. The recall is final: following the technical investigations on the defective samples recalled last March in the United States, Caracal International concluded that there is no way to fix or repair these defects. Thus, all recalled Caracal C pistols will be permanently retained by the Company; owners will be refunded, or provided with a voucher to replace the retired handgun with another Caracal pistol. The recall affects all Caracal Model C pistols, including but not limited to those with serial numbers which start with the following letters: HM, AA, AD, AG, CA, CB, CC, CD, CE, CF, CG, CH, CI, CJ, CK, CL, CM, CN, CP, CR and CS.
This large-scale recall is definitely a bad publicity stunt for the Abu Dhabi-based company, which will have a hard time in regaining the faith of the global shooters' and professional operators' community. Nonetheless, we stress, the recall affects only the Caracal C models: the Caracal F full-size pistols haven't been found defective, and are thus not affected by the recall. The diffusion of the defective samples, and the extent of the defects, is yet to be determined: there are some Countries − including Italy, the first western Country where Caracal pistols were ever distributed − where no defect or issue has EVER been reported with Caracal pistols, or where defects have been found to be limited to single samples; on the other hand, other Countries found themselves issued with a wider number of severely defective samples.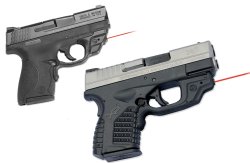 CTC - Crimson Trace Corp.
Truth be told, this is the third wide-scale recall for a compact, defensive pistol, and all of them were first launched on the U.S. market: in the past weeks, Smith & Wesson issued a safety recall for M&P "Shield" pistols, and so did Springfield Armory with the XDs pistols. As a long-experience gunwriter, I may assume that the problems experienced with so many different models from so many different manufacturers may be linked, and all caused by a single factor: hasty manufacturing. 
As we all know by now, following the tragic Sandy Hook Elementary School shooting in Newtown (CT) in December 2012, a panic concerning possible anti-gun laws sweeped through the United States; although the State of Colorado, and other States with a previous history of strict gun control, did in fact pass stricter laws, all proposals at a Federal level were stopped by the Congress. Nonetheless, the U.S. gun market exploded in a buying frenzy, as gun owners and citizens that otherwise never owned a gun before rushed to purchase firearms and ammunition of all kinds, fearing that they may have been forbidden from doing it in the future; this put the global gun industry under severe pressure.
It's thus easy to assume that, rushing to satisfy the demand surge from the U.S. market, gun manufacturers from Europe, America, the Middle East and anywhere else may have stepped on the gas pedal to produce more and more samples to throw on the market, going easier on quality control at the same time in order to address the demand faster. Should this be true − in NO WAY I'm accusing ANYBODY of carelessness or negligence, but should this ever found to be even partially true − the public relations backlash would affect the entire sector, and gunmakers from the entire world would have to work hard for the years to come in order to persuade American and generally international shooters and professional operators to trust them again.