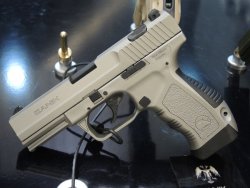 The Turkish arms industry reached an excellent level of dynamism in the past ten years or so, and its products conquered the global market thanks to their very good price to quality ratio. Most of times, Turkish gunmakers are perfectly capable to conceive and put in production brand new models and working systems − but even when they decide to partially or totally clone an already existing design, they often succeed in tinkering with it as much as it's needed to add that little bit of originality and to adapt the overall layout to the local manufacturing capabilities, or to the needs and requirements of the intended users. Cloning is an art, and Turkish manufacturers learned it the hard way: their locally-made versions of foreign products are most of time just as good as the originals, and it couldn't be any other way, since the Turkish arms industry worked hard to achieve the current capabilities and know-hows. In this global economic phase, with Turkish guns being sold by the numbers even as the economic crisis still rages on, it's necessary to keep on offering high-quality products even when their price tag is kept low. Making cheap things that don't meet the quality expectations of shooters worldwide could backfire on the entire Turkish arms industry very, very bad.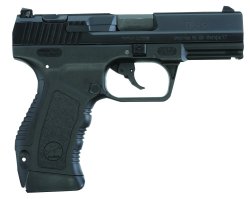 CANIK-55 - Samsun Yurt Savunma Sanayi ve Tiçaret A.Ş.
As a matter of fact, one of the Turkish arms makers that best learned this lesson and is now strictly applying these principles to its production lines is SAMSUN Yurt Savunma Sanayi ve Tiçaret A.Ş., best known under its Canik-55 trade mark. Just like many other Turkish gun manufacturers, the Canik-55 company has been long time working with European and north American distributors to manufacture guns and gun parts on order, thus basing its performance and quality levels upon very strict requirements. One of its latest products, now being sold worldwide for a couple of years now, was also its first polymer-framed firearm: the TP9 semi-automatic pistol. Sold both on the commercial (civilian) and professional (Military/Police) markets, the TP9 was adopted by the Turkish Police for the specialized counter-terror teams. It's honestly, solidly built, and it's greatly superior to most of the other budget-price polymer pistols out there − and it couldn't be different, since it's a license-built variant of the Walther P99. If the 9mm TP9 was a great seller in Europe, in north America and worldwide, its latest incarnation − dubbed the TP40 − was specifically conceived for the U.S. market.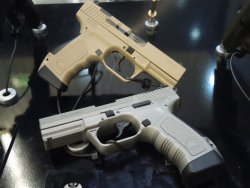 As its own name states, the TP40 is a variant of the TP9 platform, scaled up in caliber. Its magazine − manufactured in Italy by MEC-GAR, fully made out of steel stampings with a polymer pad − hosts up to thirteen rounds of .40 Smith & Wesson ammunition. The TP40 frame is molded out of a fibreglass-reinforced polymer mix, and comes equipped with a tactical MIL-STD-1913 "Picatinny" rail and an ergonomically-modeled grip, while the slide is machined out of a single stainless steel billet. Both slide and frame may come in different colors: black, tactical grey, OD green, desert tan, and different variants of Digital Camo. The TP40 is approximately 7.1 inches long, and sports a 4" barrel, which makes it perfect for both concealed and open carry. It is a light double action, striker-fired pistol that comes without a manual safety and with a visual/tactile cocked striker indicator on the rear portion of the slide and with a loaded chamber indicator over the slide itself, close to the ejection window.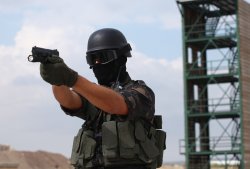 CANIK-55 - Samsun Yurt Savunma Sanayi ve Tiçaret A.Ş.
The TP40 sports the same disassembly lever and hold-open device configuration of the Walther P99, while the magazine release is a way more conventional push-button located right behind the trigger guard, on the left side of the grip; the gun also sports an ambidextrous/double decocking lever, located on the rear top portion of the slide, close to the rear sight; once the decocking lever is pushed, the first shot will be fired in a longer double-action mode, as the trigger will have to pre-load the striker. Other features include a cold hammer forged barrel, fully chromed metal parts, an adjustable rear sight, interchangeable palmswells and an overall weight of merely 22.9 oz. empty.
The TP40 is sold in the United States for an overall price that tops 373.23US$, and comes equipped with two magazines. Perspective buyers everywhere else should contact the company to inquire about their local authorized importers and distributors.