Article also available in other languages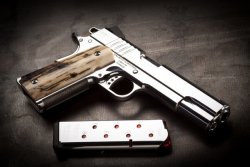 The 1911 semi-automatic pistol platform, and all its variants − from the 1911-A1 onwards − really need no introduction to serious, discerning shooters, gun historians and enthusiasts worldwide.
The single-action semi-automatic handgun design patented by John Moses Browning over one century ago was meant to be a shot at the U.S. Army's trials for a new service pistol... and it went on to become a cultural icon in the world of guns, globally.
Now widely recognized as one of the world's best pistols ever, this quintessentially American handgun has been a standard service pistol for military and Police personnel for a long time, and even now − despite being somewhat outdated for modern combat purposes − still enjoys some niche success between professional operators, and is still issued in several Countries in South America and in Asia − particularly in the Philippines, almost a "second motherland" for the 1911/1911-A1 platform due to the incredible cult status it still enjoys there. 
It's no wonder: the 1911 is solid and accurate when well-built, it's a totally reliable gun when well treated, and its .45 ACP chambering is a guaranteed man-stopper, although variants chambered in other calibers exist, from 9mm to .40 Smith & Wesson, from .38 Super Auto even up to .357 Magnum. As of today, we still don't have a clue of how many 1911 variants, manufactured now and in the past, actually exist, and how many companies and gunmaking plants worldwide actually ever came out with at least one 1911-based pistol.

There's a reason why such an incredible number of gunmakers gave at least once a shot at this design, either through limited production runs or with massive manufacture: all its proven qualities still make it a favourite between competition shooters − particularly when it comes to custom modifications − as well as between gun collectors and even for the "Average Joes" looking for a reliable instrument of personal defense, home and property protection, or plain and simple range shooting.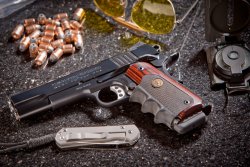 Like we said, even though the original 1911 project is now over one Century old, the design is still sound, and enough versatile to allow the manufacture of modified variants for a plethora of purposes: service and defense, sports shooting and collection, even double-barrel. We normally don't get excited anymore, when in front of a "yet another 1911/1911-A1", whoever the manufacturer: everything is possible with JMB's iconic creature!

However, we can still remain pleasurably surprised to see the high quality levels that some companies, even smaller and virtually unknown ones, can reach with their 1911/1911-A1 based creations, generally based upon a mix of high-technology materials, nano-technologies and state-of-the-art manufacturing machineries and procedures, and the expert craftsmanship of  skilled gunmakers.
That's the case of the Cabot Guns Company, headquartered in the town of Cabot (Pennsylvania, USA) and part of the Penn United Technologies group. Headed by the very likeable Rob Bianchin, a dynamic and expert arms engineer of Italian ancestry, the Cabot Guns company is one of America's most highly regarded manufacturers of top-level 1911 pistols.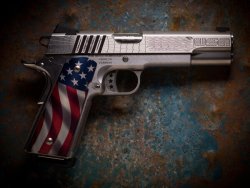 The Cabot Guns company calls itself "a niche manufacturer for niche products". Currently the Cabot Guns product line includes ten 1911-A1 variants − all marked by a strong personality and originality under all points of view, from workmanship to finishes.
In the Company's own words, the Cabot Guns pistols are "post-Custom" models, possibly even more advanced and perfected than any "Tuned" variant.

Some of the Cabot Guns pistols stand out due to their unique layout or decorations, making them true collectors' items: that's the case for the Mirror Image sets, comprising two soster handguns, or the American Joe, Cabot Guns' own patriotic tribute to America and to the Second Amendment of the Constitution of the United States.
Others, just a little bit more "simple" or "practical" if you wish, include the Jones 1911 and Jones Deluxe models − personally conceived and designed by Carl Jones, founder of the Penn United Technologies group − dubbed as "The Rolls-Royce of th 1911" by S.P. Fjestad, one of the most important American gun historians and editor for the Blue Book publications.
Other variants, such as the Rangemaster, the GI/Classic and the CGI/Classic, were conceived for daily use (competition shooting, concealed carry), while the National Standard and National Standard Deluxe variants are, once again, more elaborated in workmanship and finishes; last, but not least, the South Paw currently represents one of the very few 1911-A1 type pistols to have ever been specifically conceived and built for left-handed shooters, and possibly the only one being manufactured today.
We really don't have enough room or time to fully describe the astonishing features of the Cabot Guns models, given the fact that, outside of a few common points − .45 ACP chambering, full compatibility with all commercial-grade 7-rds or 8-rds single-stack 1911-A1 magazines, high-precision, high-quality steel construction − every single model departs from tge others in some way, and none is quite comparable to any of the currently available mass-produced 1911s out there.

Workmanship is excellent on all Cabot Guns pistols: all models, none excluded, are totally hand-made, and this has of course a consequence on the street price: the least expensive Cabot Guns 1911 pistol is just a little less expensive than 5000.00US$ in the United States, definitely not something for everybody, but once again, these are "Niche products for niche shooters"!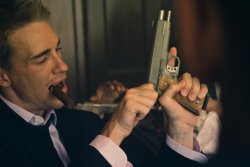 This doesn't means that the Cabot Guns can't be used and... abused at the firing range or anywhere else: the results of such an excellent level of craftsmanship when it comes to accuracy and performance stood out at the 2012 and 2013 NRA Pistol Championships in Camp Perry,  when Brian Zins won the title twice in a row using Cabot Guns pistols.
The Cabot Guns pistols are currently available only on the United States market.
We had a talk about this with Mr. BRob Bianchin, the owner of Cabot Guns, at the 2013 IWA expo in Nuremberg (Germany), and of course the company is interested in selling abroad.

Thus, Cabot Guns is currently looking for distributors for several European Countries; we are all aware of the fact that said price levels won't help to "flood the market", but here we're not talking about selling potatos... this is about signing contracts for the distribution of Èlite-level, prestigious products. All interested companies working in the gun import and distribution sector in Europe may thus contact the Cabot Guns company for further informations.