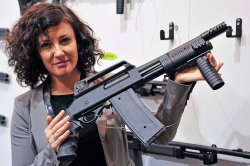 At the 2016 edition of the HIT Show, the Brixia Shotguns company showcased two new product lines, dedicated to sport shooters and collectors alike, as well as offering excellent alternatives for personal, home and property protection as well as for service purposes.

The Brixia Shotguns 1911 line of semi-automatic pistols offers a fully Made in Italy reinterpretation of the most quintessential American pistol design. Fully manufactured in-house by the Italian company with 100% Italian components and materials, the Brixia 1911 pistols are available in a plethora of finishes, Cerakote included, and offer very tight fit and tolerances for maximum stability, reliability and performance right out of the box. As of today, the Brixia 1911 pistol is available only in .45 ACP, feeding through 7-rounds single-stack magazines.
The Brixia Shotguns SK2.0 line is the latest take on the classic Valtro design of magazine-fed pump-action shotguns. Available in several barrel length and stock options − pistol grip only, pistol grip with metal upfolding or sidefolding stock, pistol grip with M4-style sidefolding and collapsible stocks − and in many finish options including Cerakote. Other features include a muzzle breacher, a railed polymer handguard and a top MIL-STD-1913 "Picatinny" rail. LPA "Ghost Ring" sights are also available. The detachable magazine − offering a minimum capacity of seven 12-gauge, 76mm/3" shotshells − sports a hold-open device that prevents the bolt from being locked once the magazine is empty.