If you're fond of (quite) showy guns, here's one for you: the new Black and Titanium Gold Desert Eagle features a black aluminum frame and a black oxide slide, while barrel, appointments (including safety screws, safety levers, hammer housing, hammer, barrel lock, pin, magazine catch pin, slide catch, barrel lock, magazine catch, trigger and rear sight) and magazine baseplate are titanium gold plated.
As the manufacturer puts it, "the brilliant contrast between the black and gold finishes offer a unique visual appearance while maintaining the quality and durability that is standard with Magnum Research Desert Eagle pistols." The  Desert  Eagle  Mark  XIX (or "Deagle" for short) sports "a unique visual appearance" indeed: on such an impressive big gun, the gold accents are pure bling! According to the claims, the highly polished titanium gold coating is not just aesthetic but also durable and resistant to wear.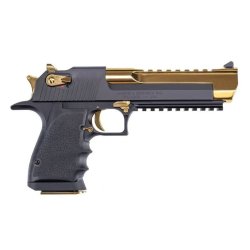 Picatinny rails can be found on both the matte black aluminum frame underside and on top of the imposing titanium gold plated barrel, which is 6"/152 mm long and polygon rifled. The matte black carbon steel slide rounds off the gun's striking two-tone look. Sights are combat type and fixed. The Hogue one-piece soft rubber grip has finger grooves. 
The Black and Gold Desert Eagle will be offered in .50 AE and .44 Magnum calibers. The price tag is almost as impressive as the gun itself, at 3099 euro.
The pistol will be shortly available at the Ferkinghoff International Online Shop. 
Desert Eagle XIX Black Titanium Gold Special Edition – Specs
| | |
| --- | --- |
| Calibers: | .50 AE and .44 Magnum |
| Barrel Length:  | 6"/152 mm |
| Overall Length: | 10.75"/273 mm |
| Height: | 6.25"/158 mm  |
| Width: | 1.25"/31 mm |
| Weight:  | 4 lbs. 7 oz. (.50 AE) / 4 lbs. 8 oz. (.44 Mag)  |
| Frame: | Aluminum |
| Slide:  | Carbon Steel |
| Magazine Capacity:  | 7+1 rounds (.50 AE) / 8 + 1 rounds (.44 Mag) |
| Price: | 3099 euro (price may vary in your country due to VAT and import duties) |