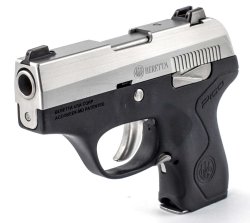 Headquartered in the city of Accokeek (Maryland), the Beretta U.S.A. Corp. is not simply a detached representative of the Italian parent company, but a rather vital industrial reality with full production capability to satisfy the needs of the north American market − and yet retaining the capabilities to export a quite important amount of products worldwide. As a matter of fact, Beretta U.S.A. provides almost complete in-house manufacture for the Beretta products sold in the United States, and in most of the American continent, to civilian shooters, private security personnel, law enforcement officers and military operators. At the same time, Beretta U.S.A. enjoys state-of-the-art designing and engineering capabilities, and is perfectly authonomous and independent from the Italian parent company as far as it concerns research and development: not just an "arm", but literally another head, totally capable to come out with brand new products on its own.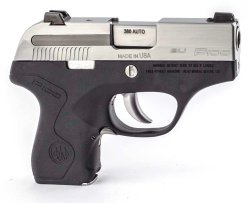 If there even was need for evidence about, Beretta U.S.A. provided it at the beginning of May, at the 142nd NRA Annual Meetings & Exhibits in Houston (TX). Among other products stood a new, nifty little pistol specifically conceived and manufactured to deliver reliability and convenience to those seeking for a light, compact defensive weapon to be used either as a primary concealed carry piece or as a backup gun. Dubbed the PICO, this new sub-compact, semi-automatic pistol features a standard locked-breeck, recoil-operated mechanism with tilting barrel, and feeds through a single-stack steel magazine holding eight rounds of .380-ACP ammunition, although it may be converted to .32-ACP simply by changing the barrel. The Beretta PICO is a double-action only, hammer-fired pistol, featuring a round butt and a bobbed, low-profile DAO hammer.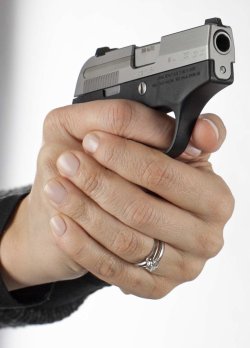 Such a slim pistol couldn't be made elsewhere but in the Beretta's own north-American plant, as if it was made in Italy, it couldn't be imported in the United States due to the absurd "points" system imposed by the provisions of the 1968 Gun Control Act for imported handguns. Nonetheless, this is yet another proof of the genius and the technical capabilities of the Beretta U.S.A. plant, whose earlier stunt at a pocket self-defense pistol resulted in the 9mm NANO, now a major hit on the market. As a matter of fact, the PICO may be seen as a slimmer derivative of the NANO itself: slide and frame are pretty much akin, although modified to fit the smaller caliber and to result in a totally snag-free design to remain comfortable to carry and safe to draw even from inside a purse or a pocket. The PICO is also the thinnest .380 pistol ever made available to the market (18mm at their widest point), and a totally modular design; just as in the NANO, the polymer frame is not directly connected to the stainless steel slide, but mounted on a steel sub-chassis which also carries the serial number. This means that legally all components can be switched, as long as the sub-chassis remains intact.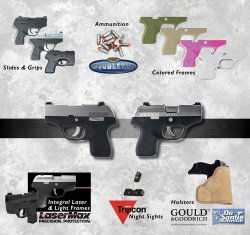 And, it can be made: Beretta offers a wide range of accessories and spare parts for the PICO: .380-ACP and .32-ACP barrels and magazines, black or stainless slides, colored polymer frames even integrating a specifically conceived LaserMax laser pointer, and Trijicon iron sights which can be adjusted by the owner at home without requiring an armorer, or even replaced through a simple hex screw. Gould & Goodrich and DeSantis will provide proper holsters, available in a wide array of variants and materials.

The Beretta PICO is manufactured entirely at the Beretta U.S.A. plant, and it will start shipping in August for the U.S. market only, at a manufacturer's suggested retail price of 399.00US$. A deadline for European and global exports hasn't been planned yet, but the PICO shouldn't be available outside of the United States before beginning 2014 at the very least.