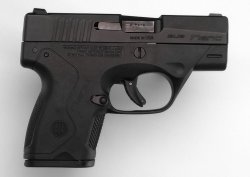 The last word in the field of semi-automatic, striker-fired defense pistols comes from a company that had kept itself well away from this field... until now. The Accokeek (MD, U.S.A.) branch of the Italian-based Beretta Holding S.p.A. announced last october the launch of a new polymer-framed 9mm double-action-only subcompact handgun to compete with the well-known, widely spread similar products proposed by companies such as Glock and Smith&Wesson; as a matter of fact, this new course departs greatly from the Beretta-signature typical features such as the Walther-based tilting block locking, open top slide, or even the latest evolution of the rotating barrel systems that the market has got used to.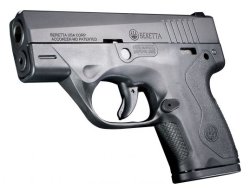 Yet, the ever-changing tastes and needs of the market can not be ignored, and the new BU-9 "Nano" semi-automatic subcompact pistol, featuring a tilting barrel, a Pronox-finished, 4140 high-tensile steel alloy slide and built on a fibreglass-reinforced polymer frame − utilizing a removable, serialized sub-chassis that makes it easily modifiable with replaceable grip frames while keeping simple to disassemble and maintain − might as well take advantage of the Beretta name and internationally-recognized quality to become the next best game changer in the field of concealed carry and backup defense pistols. And its general technical layout may even become the basis for a future line of Beretta compact and full-size service, defense and sporting pistols... who knows.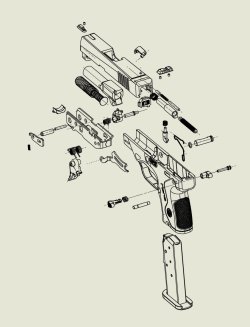 The Beretta BU-9 "Nano", as its own name states, is available only in a 9mm chambering (9x19mm, or 9x21mm-IMI for Italy and other markets where the 9mm Luger caliber is civilian-illegal), and sports a single-stack column, six rounds metal magazine with polymer buttpad, plus one additional round in chamber. Ease of use and concealment were key drivers in the development of the "Nano": at 5.63"x4.17"x.90", with a 3.07" barrel lenght, the BU-9 sports an extremely low-profile, snag-free design that makes it easy to carry and draw from concealment, and the magazine release button (the only control actually featured on the gun) can be easily reversed to accommodate right or left-handed use. The BU-9 "Nano" 's 3-Dot low-profile sights with a 4.92" radius are user-adjustable with either a 1.3mm hexwrench or... the user's fingers, allowing adjustment without the assistance of a gunsmith. Weight unloaded for the BU-9 "Nano" sticks to a laughable 17.67 oz, making it extremely comfortable to carry anywhere, anytime, in any way, either in a holster, a pocket or a purse. The MSRP for the US market, at $475.00, remains more than acceptable for a gun of its segment.