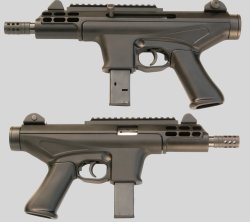 First sightings were in Switzerland, around 2000/2001: the "Storm" pistol design was, in fact, originally conceived by THOR Projects Switzerland, a small enterprise based in the southern Swiss town of Mendrisio, owned and managed by Claudio Gritti. Mr. Gritti himself is an Italian, and during the 1980s he was the co-owner, along with Mr. Roberto Teppa, of the SITES - Società Italiana Tecnologie Speciali S.p.A. company, headquartered in the city of Turin. The SITES company was responsible for the manufacture and distribution of an iconic '80s, gun, the "Spectre" sub-machinegun and semi-automatic pistol and sub-carbine, a familiar name for gun enthusiasts, much appreciated by those who had the luck to actually own and operate one. A revolutionary design under many points of view, the SITES "Spectre" sub-machinegun and its civilian variants didn't gain the commercial success they would have deserved, and after the design was banned from import in the United States the SITES company was forced to fold.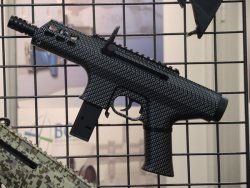 The "Storm" pistol was born somewhat as a "heir" for the "Spectre", as it shares many of its technical and conceptual standpoints. Much like the "Spectre", it has been conceived for service duties and personal protection uses, and was engineered to be always ready to use. As such, it features the "Spectre" 's very own SA/DA trigger group: the first shot will always be fired in double action only − much like a revolver! − while the following shots will be fired in single-action, just like with any other semi-automatic pistol. This will allow the user to attempt a "re-strike" on a round that fails to detonate, and will also eliminate the need for a manual safety: as a matter of fact, the "Storm" has none, and other than the trigger, the only controls it features are a cocking lever, located on the left side, and a magazine release catch under the trigger guard, to be operated with the weak hand's thumb. It does feature a trigger safety, though, which will be disengaged only if the trigger is fully pulled in a movement that can only be intentional.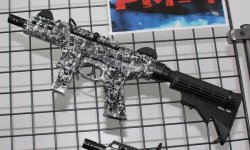 For years, the "Storm" pistol design remained in a sort of limbo, ending up in the hands of several companies, always in Italy, all of which somehow improved the design without reaching a full-scale production and distribution. Things changed this year, when the BCM Europearms S.A.S. enterprise − headquartered in the town of Roletto, just outside of Turin, and well known for their premium-grade long-range rifles production − announced that the gun, now dubbed the PM-4 "Storm", has reached full-scale production. BCM Europearms acquired full rights over the design a few years ago, and has been constantly improving the design ever since, in an attempt to make it both easy to manufacture and commercially viable while maintaining it utterly reliable in all conditions. Full production is now undergoing at the BCM Europearms plant, while the company stocks up to fulfill the demand for the first lots, which is definitely sky high.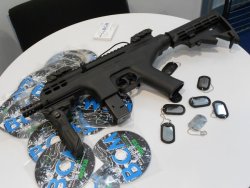 The PM-4 "Storm" is a semi-automatic weapon available both in "pistol" and "carbine" variants, both specifically conceived for civilian sales, sports shooting, personal protection, home and property defense, and service use by private security personnel. Its moving parts are encased in a machined metal frame, which in turn is protected by a full polymer, ventilated chassis. The double-stack detachable magazine can hold up to 40 rounds in 9x19mm, 9x21mm or .40 Smith & Wesson calibers. The production-grade PM-4 "Storm" features no iron sights, coming instead with a top-mounted MIL-STD-1913 "Picatinny" rail for aftermarket back-up iron sights or optical devices. The "pistol" version is 39.5 cm. long, weights 2.4 kilograms approximately and sports a 175mm-long barrel with flash hider and muzzle brake. The "carbine" version is basically the same weapon fitted with an Israeli-made (CAA Tactical) M4-style buttstock which can either be retractable or both retractable and side-folding. Other aftermarket accessories which the BCM Europearms company can provide upon request are MagPul MBUS folding backup sights and the CAA Tactical folding foregrip.

Manufacturer's suggested retail price for the PM-4 "Storm" pistol reach up to 1200€, while the carbine variant will go for about 1400€. Distribution will start in Italy only; availability outside of Italy shall be subject to future commercial agreements with foreign distributors, and will vary from Country to Country due to local laws and regulations.