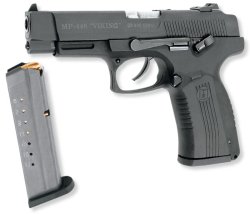 FGUP "Baikal" - "Izhevsky Mekhanichesky Zavod" JSC
The history of this pistol starts in 1993, when the Russian Ministry of Defense − reorganizing the Russian Armed Forces from the Soviet Red Army after the end of the Cold War − launched a program codenamed "Grach" (Грач) to develop and adopt an new service handgun that would replace the Makarov PM and PMm and the Stechkin APS pistols that had been in service with the Russian military and Police forces ever since the 1980s, both chambered for the 9x18mm-PM round, which had been conceived to be the highest caliber safely usable on a straight blowback gun and thus deemed to be lacking stopping power for modern combat. The "Grach" program proceeded in several forms for about ten years, with prototypes and production weapons from all the most important Russian arms makers being tested face-to-face. Ultimately, the program was won by the MR-443 (MP-443 in Cyrillic), a pistol designed by Vladimir Yarygin at the IZHMECH Izhevsk Mechanical Plant, a company known for its commercial-grade hunting, sporting, defensive and service weapons sold under the Baikal brand. The new pistol was codified as the 6P35 (6П35) by the GRAU − Main Missile and Artillery Directorate of the Ministry of Defense of the Russian Federation, responsible for the standardization of all Russian military arms and equipments − and its distribution started in 2003 within frontline military units and Police forces in Russia, where it's known as the PYa, or "Yaryigin Pistol" (ПЯ − Пистолет Ярыгина in Cyrillic).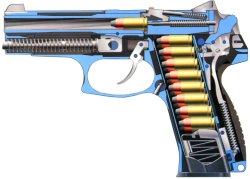 FGUP "Baikal" - "Izhevsky Mekhanichesky Zavod" JSC
The Yaryigin PYa semi-automatic pistol is technically patterned after the Czech CZ-75 pistol, and thus features a Browning-type short recoil, tilting barrel locking system as modified by Josef and František Koucký for Česká Zbrojovka in the 1970s, albeit with some minor cosmetic and functional changes, including a double-stack 18-rounds magazine, a railed polymer frame, and a low-profile crest hammer. The PYa is chambered for the 9x19mm "Parabellum" caliber, formerly the standard pistol/SMG round for the "enemy" NATO countries; it was chosen for manufacturing convenience, given its global diffusion − many Russian ammunition makers already had production lines for 9x19mm export and sporting rounds back then −  although the Russian military employs two high-pressure (+P+), armor-piercing variants, dubbed 7N21 and 7N31-PBP respectively, featuring a bi-metal ball with a steel core and penetrator tip, with the second one (7N31-PBP) being more apt for sound-suppressed uses.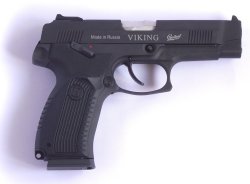 FGUP "Baikal" - "Izhevsky Mekhanichesky Zavod" JSC
As of today, the PYa pistol hasn't reached the hoped level of adoption and acceptance within the Russian Armed Forces. Despite being quite a low-price product for the western standards, the PYa is still considered too expensive for mass distribution − plus the manufactured samples have sometimes been reported to be defective, with somewhat alternating quality levels from lot to lot. The Russian Ministry of Defense has been reported to be currently on the lookout for an alternative, which could well be the Arsenal Firearms AF-1 "Strike One" pistol as manufactured in Arsenal Firearms' Moscow-based company as the "Strizh" ("Стриж " in Cyrillic). The Baikal company is however still manufacturing the PYa, in both its standard service version and in a slightly re-designed variant for civilian ownership and for export: that's dubbed the MR-446 "Viking" ("МР-446 'Викинг' " in Cyrillic).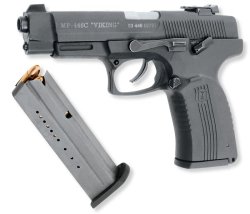 FGUP "Baikal" - "Izhevsky Mekhanichesky Zavod" JSC
Manufactured under somewhat higher quality standards than the military-grade version, the "Viking" pistol comes with a reduced-capacity, 10-rounds or 15-rounds magazine, a non-strenghtened polyammide railed frame and a lightened 4.4-inches barrel and slide that wouldn't withstand the high-pressure Russian military standard 7N21 and 7N31-PBP loads; this "downgrade" was carried on to make the Baikal MR-446 "Viking" pistol compatible with the laws and regulations concerning compatibility of civilian-grade pistols with military-grade ammunition in many jurisdictions, and thus to make it legal to export in several Countries. Another civilian-grade version, dubbed the MR-446S (МР-446С in Cyrillic, where "S" is for "Sport"), was specifically conceived for IPSC competitions, and  as such it is offered with a 12cm. barrel, optimized accuracy in comparaison with the baseline and military-issue variants, adjustable rear sight and trigger travel. The "Viking" pistol was included in the official list of weapons used in the international competitions according to IPSC rules in 2003.

FGUP "Baikal" - "Izhevsky Mekhanichesky Zavod" JSC
Baikal's MR-446 and MR-446S "Viking" pistols are currently sold on the civilian markets in several Countries in central and eastern Asia, as well as in Canada, South Africa, Australia and New Zealand. Manufacturer's suggested retail price worldwide ranges around 500€, which makes it quite a cheap pistol for being a modern and (after all) sturdy tactical design that'd be perfect for personal protection, home and property defense, and for service purposes by private security personnel. Unfortunately, the MR-446 and MR-446S "Viking" pistols are not commercially available in western Europe and in the United States − particularly, they may not be distributed in the United States due to local import regulations. Perspective buyers anywhere else in the world should inquire with their respective national distributors.