Alphonse Gabriel "Al" Capone is still today recognized as the gangster par excellence, also thanks to countless movies, TV shows and books dedicated to his figure. Al Capone was born in 1899 in New York, the son of a couple of immigrants both coming from Angri, a small Italian town near Salerno.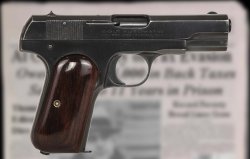 From a very young age, Al turned out to be a brawler: at the age of fourteen he was expelled from the Catholic school because he had attacked a teacher. He then took a series of less and less legal jobs and soon embarked on a career as a petty criminal. During a squabble while working as a bouncer in a club, he insulted a girl, whose brother slashed him in the face with a knife, which earned him the famous nickname of "Scarface".
After moving to Chicago, Al Capone quickly climbed the heights of crime, while earning astronomical amounts of money with the illegal trade of alcohol – at the time prohibition was still in force – becoming, in 1931, the "boss of bosses". The climate of terror and silence created by Capone, who thanks to his magnificent income had enough money to bribe even top policemen and judges, made the work of honest investigators very hard and it was difficult to find witnesses of the killings and violence perpetrated by Capone and his associates. But FBI chief Edgar J. Hoover was intent on sending "public enemy number one" behind bars and forced a change of pace in the war against Capone and his accomplices. 
Finally, in 1933 Capone was arrested for tax evasion – the story is told in the movie "The Untouchables"  – and sentenced to eleven years in prison. Initially, Capone's imprisonment in the Atlanta jail was spent among comforts and privileges of every kind, and in fact he continued to manage his criminal empire without problems. But in 1934 he was transferred to the just opened Alcatraz prison, and subjected to harsh detention conditions that undermined his health by bringing back the symptoms of syphilis contracted as a young man. In 1939 he was released on good behavior and spent the rest of his life struggling with dementia induced by neurosyphilis. He died on January 25, 1947 at his home in Palm Springs, Florida.

Auction: Al Capone's family collection - more than 180 items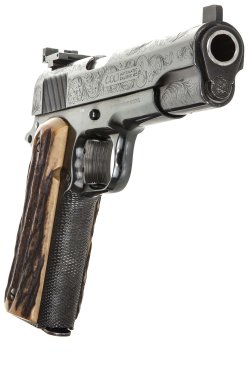 After Al Capone's death, the Palm Springs estate was closed and remained uninhabited until 1952. The objects and furnishings it contained never escaped the control of the Capone family, who have now decided to auction off about 180 items, including photographs, furniture, furnishings, letters and even guns belonging to Al Capone, his wife Mae and his son Sonny. 
The total estimate of the lots ranges from about $380,000 to $700,000. The auction organized by Whitterell's Auctioneers will take place at the Sutter Club in Sacramento (California) on October 8, 2021. You can attend the auction in person, by phone or online at www.liveauctioneers.com.
One of the most interesting lots in the auction is a three-page letter written in pencil sent by Al Capone while he was incarcerated at Alcatraz to his son Sonny (1918-2004). 
Its value is estimated between $25,000 and $50,000 (about 22,000-44,000 euros). What interests gun enthusiasts most, however, are lots 21 and 49, two Colt semi-automatic pistols owned personally by Al Capone.
Part of the 2021 Auction: Al Capone's pistols - Colt Pocket 1908

Sheldon Carpenter www.roundspace, © Sheldon Carpenter, All Rights Reserved
The first is a Colt 1908 Pocket Hammerless in .380 Auto caliber with serial number 77036, blue finish and smooth wood grips – not a standard equipment. According to the granddaughter's statements, this was the gun Al Capone carried for personal defense, in the unlikely event that some hit man managed to evade his ubiquitous and ruthless bodyguards.

It is an elegant and all in all compact pistol, if we consider that it was designed more than a century ago, fed by a 7-round magazine (8-round in the .32 ACP version) and equipped with a 3.9"/100 mm barrel for a total length of 7"/180 mm. The pistol had two different safeties: the first was a thumb safety on the left side of the frame, the second was an automatic grip safety. The trigger was single action, with locked breech action. 
The definition "Hammerless" indicates that the pistol has an internal hammer, an interesting solution for a gun designed for concealed carry. At the time, this Colt 1908 Pocket Hammerless was definitely one of the best defense pistols on the market: it was adopted by the New York Police and the US Army as senior officers gun. But it was also very appreciated by criminals: besides Al Capone, who apparently never parted with it, it was also used by Bonnie Parker and John Dillinger, who had one in his pocket the day when he was killed by the police in 1934.
It is interesting to note that in 2020 a similar gun but with nickel-plated finish, supposedly owned by the notorious gangster, was auctioned off for $69,000. But while in the case of the nickel-plated model there is no direct evidence of the connection between the gun and Capone, in the case of the Colt Pocket up for auction at Whitterell's there is continuity, since it has always been owned by the family. The estimated price for this gun ranges from $30,000 to 60,000, about 25-50,000 euros.
Al Capone's favorite pistol: a particular 1911 - part of the Auction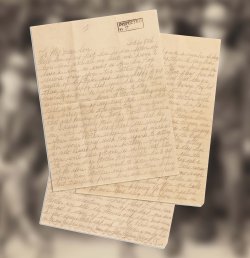 Sheldon Carpenter www.roundspace, © Sheldon Carpenter, All Rights Reserved
Let's talk now about the 1911 semi-automatic defined in the catalog as "Al Capone's favorite". It is a 1911 Government Model in .45 ACP caliber with extensive floral engravings, handmade checkering on the front and back straps. The serial number is partially abraded and only the digits C837 are legible. Also in this case the original grips have been replaced by a pair of deer antler grips. 
The original sights have been replaced with a very high set, consisting of an adjustable rear notch and a Patridge front sight. Interestingly, an Ace extension is fitted on the trigger that dramatically increases its surface area and features fine checkering. It is not possible to know if this modification was made by Al or by his son Sonny, who was a great fan of guns and an excellent pistol shooter (one of the lots for sale is a group of 26 medals won by him in shooting competitions).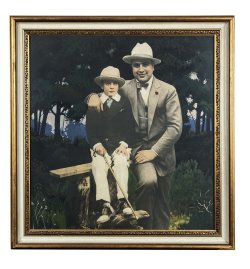 Sheldon Carpenter www.roundspace, © Sheldon Carpenter, All Rights Reserved
This trigger shoe was commonly used on revolvers when they were still used for competitions, but there were models for rifle and semi-automatic pistol too.  It was certainly not an accessory to be fitted to a self-defense pistol and its presence constitutes a small enigma that makes this forty-five with an interesting past even more intriguing. Perhaps did Al Capone dabble in precision shooting? 
Or are the adjustable sights and trigger shoe the result of later modifications by his son Sonny? We may never know but it's not that important. The auction base for this quintessential American pistol is $100-150,000.
For those on a tighter budget, there is the option of falling back on a four-blade pocket knife made by Larter & Sons of New York, with silver guilloche handle and the AL initials made of 20 diamonds set in platinum. The starting price of this little object that belonged to Al Capone is $1250, just over 1,100 euros.

We just have to wait for the auction's end to see who will be so lucky (or spendthrift) to take home Public Enemy Number One's guns. In the meantime you can watch in a video some of the most important items.
https://vimeo.com/586881414/5a46debefc