With its great power, associated with a muscular and flashy appearance, the Zoraki HP 01-2 Light almost looks like an air version of a Desert Eagle crossed with a target shooting pistol. The massive false slide is in fact coupled to an anatomical grip with adjustable palm rest, while the great abundance of textures, grip checkerings and millings give the HP 01-2 Light an aggressive and sci-fi aesthetic.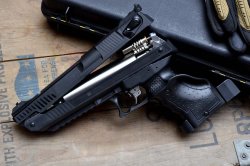 The slide actually acts as a loading lever, as the HP 01-2 Light is based on a fairly conventional air loading system, similar to that of FAS 6004 pistols, and is hinged at the muzzle. To charge the gun, unlock the slide rear, lift it up to the fully open position, then close it – this way you charge the piston. The pistol is now ready to fire, with a pellet energy of about 4.5 joules. 
At this point we need to open a parenthesis: in many countries air guns can be freely bought and owned by any person older than 18 years old only if they have a muzzle energy not exceeding 7.5 joules. The question is: how much less than 7.5 joules should the muzzle energy be? We turned the question over to Raffaele Mencarelli, owner of La Domino and a great expert on air guns, who replied: "Pre charged air (PCA) guns like the FAS 6004 or Weirauch HW45 deliver from 3 to 4 joules, springers deliver from 4 to 5, modern C02 and PCP guns deliver from 6 to 7 joules".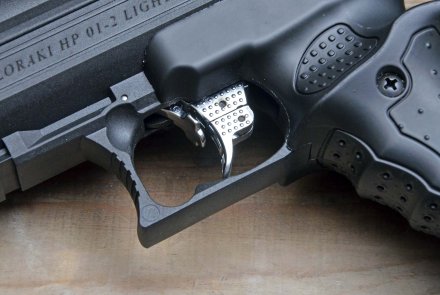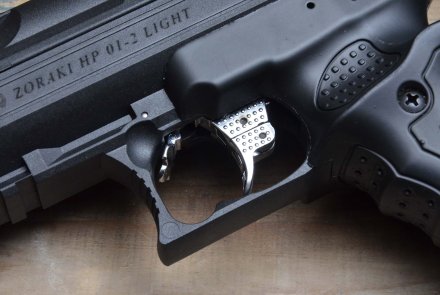 Well, despite being a PCA gun, the HP 01-2 Light's multi-stroke system allows for a second pump that brings the pellet energy close to 4.5 joules, and even a third pump that provides 7 joules of energy. As a matter of fact, this system is a power regulator to all intents and purposes, even if an empirical one.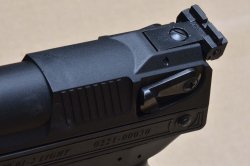 The Atak Zoraki model HP 01-2 Light is in .177/4.5 mm caliber and features a 7-14"/181.5 mm long steel barrel, with a rifled bore. Loading is done by lifting the slide rear and inserting the pellets one at a time in the breech. The pistol is equipped with an automatic safety on the trigger that engages automatically every time the slide is operated for loading. The ergonomics are, all things considered, better than the somewhat trendy aesthetics would suggest – but this is not a pistol for left-handers, given the strong asymmetry of the grip. The sights consist of a drift and elevation-adjustable rear notch made of metal and plastic, and a replaceable front sight. Particularly interesting is the possibility to adjust the trigger pull to four settings. On the front-bottom of the barrel we find a Picatinny-type raid that allows a tactical flashlight or front grip to be attached to the gun.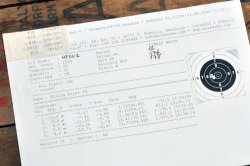 Curiously for a gun in this category, each pistol is accompanied by a sheet with a factory test target and a muzzle velocity measurement of 178 meters per second, which firing a standard 0.45 g diabolo pellet results in an energy of 7.13 joules. Not bad at all.
The HP 01-2 Loght comes in a discreet black plastic case with molded interiors that suggests the possibility of adding barrel attachments and other accessories. Visiting the manufacturer's website we saw in fact that the gun is also available in a version with a longer barrel and removable stock.
The retail price of the HP 01-2 Light is about 320 euros, not light at all, but justified by the unique features of this unique and powerful air pistol. 
Zoraki HP 01-2 Light specs and price
| | |
| --- | --- |
| Manufacturer: | Atak Arms, Turkey |
| Model: | Zoraki HP 01-2 Light |
| Action: | PCA air gun |
| Caliber: | .177/4.5mm |
| Trigger Pull Weight:  | Adjustable to four levels |
| Magazine Capacity: | Single shot |
| Safety: | Automatic |
| Barrel Length:  | 7.14"/181. 5 mm  |
| Total length:  | 11.61"/295mm |
| Weight:  | 38.8 oz/1100 grams |
| Price: | About 320 euro (price may vary in your country) |