Article also available in other languages
Bureaucratic red tape to go through to start manufacture and distribution, bureaucratic red tape for export authorization, and a long backorders list to keep up with... bad luck tried hard to throw a monkey wrench in the works of Italy's youngest, most modern name in gun manufacturing, but it failed to stop its walk towards global success!
The Arsenal Firearms company − headquartered in the northern Italian town of Gardone Val Trompia, while also running a plant in Russia to satisfy the needs of the eastern European and Asian markets − finally announced the beginning of global distribution for its products line... and did it with a blast at the 2013 edition of the MILIPOL expo in Paris, last November 19/22.
More specifically − and despite the MILIPOL expo being focused on military and police firearms, accessories, equipments and technologies − Arsenal Firearms drew the visitors' attention upon its booth with a new feature regarding the mainstay of its products line − the AF-1 Strike One semi-automatic pistol − that's meant to appeal mostly civilian shooters, and IPSC shooters in particular.
Arsenal firearms did introduce the first production-grade aluminium alloy frame for the AF-1 Strike One pistol.
That's not an entirely new product: ever since its official launch − at the 2012 edition of the IWA expo in Nuremberg, Germany − the Company had been announcing that the AF-1 Strike One pistol would have been available in polymer-frame and aluminium alloy frame variants.
However, the aluminium alloy frames that were seen up to now were nothing but prototypes: the full R&D, engineering and manufacturing capabilities of the Company were too busy in getting the full works up and running for all the pistol and rifle models that represent its product line. As much high-tech, well-funded and well-driven as it may be, any newly-founded company will always need a start-up period.
Now, the start-up period for Arsenal Firearms itself seems to be over. After taking care of the backorders that piled up in the past two years, all customers' requests will find answers and satisfaction... including these of those shooters who asked for a lightweight alloy frame for the AF-1 Strike One pistol.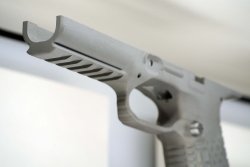 The new frames are manufactured out of a 7075 aluminium and zinc alloy, also known as ERGAL in the industry. ERGAL frames play an important part in the tradition of the modern Italian arms industry, as they were − and are − used in the Beretta M92-FS, the most iconic Italian pistol and the quintessential military and Police service handgun of the late 20th Century. ERGAL frames offer the same solidity and stability as full steel frames, at a fraction of the weight.
The AF-1 Strike One pistols with lightweight aluminium alloy frame will be a little bit heavier than the polymer-frame models, but the ERGAL frame is meant to complement the polymer-frame models, not to replace them. This means that shooters and operators still looking for a lighter weight pistol will now have not one, but two choices to go for!
Furthermore, ERGAL and other aluminium alloy frames are highly sought after by IPSC shooters. That's the market that Arsenal Firearms wants to appeal to, with the new alloy frame for the AF-1 Strike One pistol. While owners of other striker-fired semi-automatic pistols (think Glock!) still have to resort to aftermarket products for heavier-weight, competition-ready aluminium alloys, Arsenal Firearms owners will have a cheaper, factory-issued choice to go for!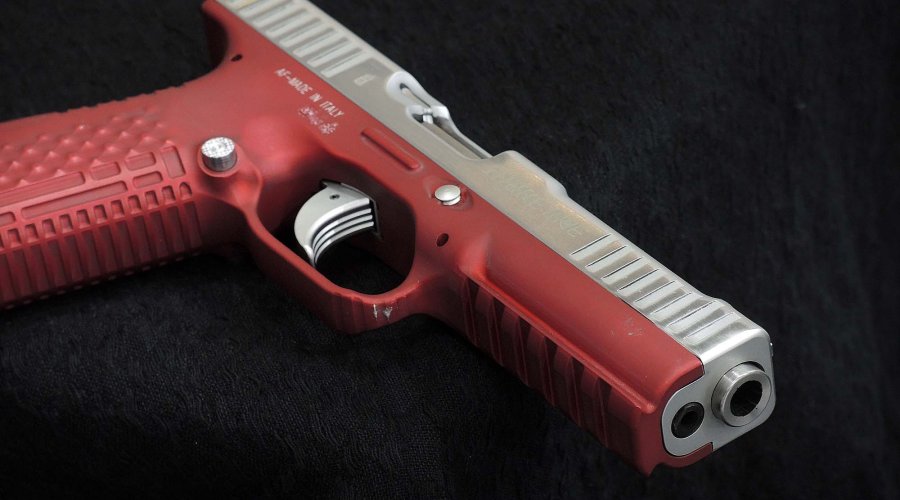 Under normal circumstances, aluminium alloy add weight under the gun, thus reducing recoil and muzzle climb levels and improving accuracy for better performances in certain shooting exercises.

Of course, these aren't "normal circumstances" at all. Thanks to the peculiar locking system − one single freedom-of-movement principle − and barrel securing system − the single barrel securing nut − and to the lowest grip-to-bore axis (12mm) and lowest overall bore axis ever, the Arsenal Firearms AF-1 Strike One pistol in the baseline polymer-frame pistol already features the lowest recoil and muzzle climb levels available on the market today, with a mere 10° climb angle upon firing.

A lightweight aluminium alloy for the system wouldn't be strictly necessary to achieve better results, even in IPSC competition. But variety is the spice of life, and Arsenal Firearms decided to answer the demand of many IPSC shooters who asked for an ERGAL frame version of the AF-1 Strike One ever since it was first announced.
All the lightweight aluminium alloy frames for the AF-1 Strike One pistol are 100% conceived and manufactured in Italy.
All are based upon the very same CAD design used for the polymer frame, and thus feature the same overall design, the same controls configuration, the same grip and trigger guard texture, and the same MIL-STD-1913 "Picatinny" rail.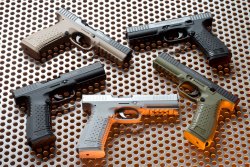 Of course, technical features have been adjusted to take into account some specific properties of the lightweight aluminium alloy, including the differences from polymer in terms of hardness, resistence, mass, weight, resilience, elasticity and flexibility.
The lightweight aluminium alloy frames are manufactured in-house by Arsenal Firearms through state-of-the-art CNC machineries and control centers.
Each lightweight aluminium alloy is machined out of a single solid billet, so to keep material consumption to a minimum while at the same time avoiding most manufacturing errors that may influence the overall quality, resilience, and performance of the final product.
Last, the ERGAL frames for the Arsenal Firearms AF-1 Strike One pistol will be available in a plethora of different colors and finishes in addition to the already announced standard variants. Of course, lightweight aluminium alloy frames may be custom-painted and adapted to the shooter's needs, and as a matter of fact that's much easier to do with an aluminium alloy frame than with a fibreglass- and elastomer-reinforced polymer frame.
Further informations concerning availability and pricing for the Arsenal Firearms AF-1 Strike One pistol variants with a lightweight aluminium alloy frame should be released in early 2014 − as early as in the next SHOT Show in Las Vegas (NV, USA), which will take place on the third week of January. Thus, stay tuned on ALL4SHOOTERS.COM to know more − and earlier! − about this new exciting variation offered by the Italian gun industry!