The AF-1 "Strike One" is not the only new product that the Arsenal Group of Companies will introduce on the market in 2012. True collectors and aficionados of novelties and items unique more than rare (specifically since its price will definitely make it exclusive) can not miss the AF2011-A1 "Second Century". As simple as it might sound from the name itself, the AF2011-A1 "Second Century" is a derivative of the most classic American design, the Colt M1911 "Government"-type .45 ACP semi-automatic pistol designed by John Moses Browning which enters its second century of life in 2012. But Arsenal Firearms will celebrate this icon in its own unique way: creating the first perfectly worlking side-by-side double-barrel pistol to be ever mass-produced.
This video has been hidden because of an external service (YouTube) that could potentially collect personal data.Allow video services for the duration of the visitAllow video servicesStop allowing video services
VIDEO: Arsenal Firearms AF2011-A1 "Second Century" double barrel pistol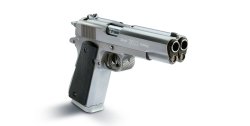 Arsenal Firearms based its work around the AF2011-A1 "Second Century" pistol project on the concepts of Vivian Mueller, a Swiss gunsmit who conceived a single, double-barrel SIG P-210 sample about ten years ago; Arsenal Firearms' technical capabilities in the fields of SLA (stereolithography), 3D printing. solid imaging and part machining allowed six mere months to pass between the R&D and designing phase to the creation of the final working prototype: an incredibly short amount of time to come out with an extremely high quality product based upon machined metal "double" part made in house "as-they-are": a "double" guides frame, a sixteen-rounds .45 caliber "double" magazine with two single-columns holding eight rounds each, a "double" barrel with a single bushing. 
The AF2011-A1 "Second Century" remains however compatible with a wide array of components manufactured in series by third party companies for 1911-type derivatives, so to make spare parts handling easier: the list includes, as an example, the firing pins in all its parts, the trigger groups, the main spring housings and their inner components, the return springs and their guide rods, the magazine bodies, springs and followers, the rear sights (of either standard and adjustable/competition models, or of any other type available on the market), the grip panels and their screws. 
Some of the unique components specially manufactured for the AF2011-A1 "Second Century", other than just the slides and the frames, include the special double hammer with single crest, the single or double magazine wells and their elongated, double push-pin release buttons, the single housing for the double main spring, the hold-open lever and the double frame mounted safety, as well as the single or double trigger groups activated by either a single or a double trigger, available upon request.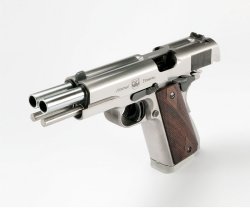 The AF2011-A1 "Second Century", with its Deep Blue mirror or 3400 nitric White Ash finish, is not only a beautiful sight and an exceptional display piece, but also a perfectly functional target machine capable of giving great range satisfaction to its owner, featuring unbelievable accuracy performances with a pleasantly moderate recoil despite the fact that each shot of this behemoth discharges an overall payload of about 460 grains, enough to take down a bull; its entire double magazine can be emptied in rapid fire in about three seconds, resulting in over 4000 grains of lead on target!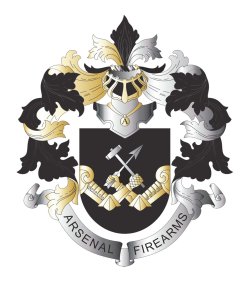 Arsenal Firearms boasts the highest number of 3D machineries for firearms engineering worldwide; said potentials are combined with the vast experience of its technical team in the fields of reverse-engineering and miniaturization of basically every firearm ever made in history, in research-and-development, in ballistics and real-life operational experience with firearms use for sports, defense, military and Law Enforcement. Enjoying contribution from lead figures in Europe, including some of the world's most important arms experts and some of the most dynamic manufacturers (including Arsenal Firearms' privileged partner, Tanfoglio), the company quickly came out with a new approach to new products design, based upon great versatility, creative skills and vitality.
Arsenal Firearms S.r.l. is proud to be able to bring to life in months what would take years for any American gun industry to achieve.  within a few months, what in the American industry would normally require years. Its superior dynamics put it above most direct competitors and allowed the Arsenal Group of Companies to arrive to March 2012, the expected date for the start of its commercial activity, with a full range of technically new products, ready for mass production and marketing.