Article also available in other languages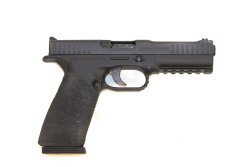 The innovative AF-1 "Strike One" semi-automatic pistol, manufactured by the Arsenal Firearms S.r.l. company out of the northern Italian town of Gardone Val Trompia, has been conceived to be among the best semi-automatic pistols for sports shooting, service/duty purposes, personal protection, and home and property defense. Mass distribution started only recently, with currently manufactured samples being delivered to customers who pre-ordered it up to two years ago, and yet the pistol already received some interesting endorsements. For those who won't take at one's words for that, now the "Strike One" starts having a competition Palmarés on its own.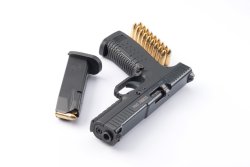 It all started in Poland, a few months ago: the VISMAG company – headquartered in the city of Lublin, and sole distributor for Arsenal Firearms products in Poland – received a batch of around twenty AF-1 "Strike One" 9x19mm semi-automatic pistols to deliver to customers who had pre-ordered it in the Country. One of the receptors is Marcin Gałązka, born in 1982, an IPSC shooter that may not be very well known outside Poland although he has been taking part to some international matches in the past years (i.e., scoring a 4th place at the European Handgun Championship in Barcelos 2013 with a revolver, last September), including 3-gun competition matches. For those of you who don't know, 3-Gun competition is a dynamic shooting sport that requres the combined use of semi-automatic pistols, semi-automatic tactical shotguns, and accurized modern sporting rifles − these being, those semi-automatic, centerfire rifles that are aesthetically and (partially) technically patterned after military issue rifles, a category of firearm that's often addressed to by anti-gunners with the pejorative moniker of "assault weapons" (so much for those who say that "assault weapons have no legitimate sporting purpose"... yes, they have, and 3-Gun competition is one of them).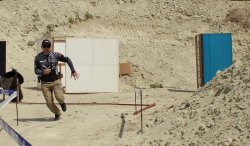 Marcin Gałązka took the gun to the range a couple of times in a week to get accustomed to it, and briefly turned it to the Grand Masters Firearms shop in the Polish town of Ruda Śląska – a local custom gunworks company which already helped Gałązka in the past, providing custom works for the modified Mossberg 930 shotgun and ADC .223 Remington semi-automatic rifle he normally uses in competition – to tinker with it slightly: no modification was made to the technical layout, the pistol was merely equipped with some gripping tape on the pistol grip and had factory sights replaced with high-visibility devices. It all took place with no sponsoring or help from Arsenal Firearms S.r.l. or VISMAG – as a matter of fact, Arsenal Firearms had no knowledge of Gałązka even being a "Strike One" owner! – but it seemed to be enough, as Marcin Gałązka decided to use the gun as its sidearm for the Bükk Mountain 3-Gun Tactical 2014 competition that took place at the Felsőtárkány venue outside of Budapest (Hungary) on April 19th and 20th.

Results were very good: Marcin Gałązka won the "Tactical Optics" division of the competition with a wide lead over other competiting shooters, and he gave his best in pistol drills (in which he used the Arsenal Firearms AF-1 "Strike One" itself) with an even wider advantage over other shooters – all of whom used semi-automatic pistol platforms that are well established and regarded in IPSC shooting competitions as per acceptance, quality and performance. It is interesting to note that the 32-years-old Polish shooter only had a very brief "warm-up" period to get used to the AF-1 "Strike One", and that yet it was enough to persuade him to set aside his old pistol for the Bükk Mountain competition.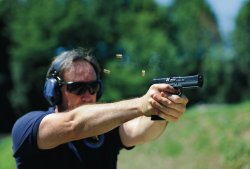 Arsenal Firearms did not produce an AF-1 "Strike One" variant specifically conceived for an individual shooter or shooting specialty – the closest thing to an IPSC-oriented variant of the "Strike One" are the ERGAL (lightweight aluminum alloy) framed pistols seen in the past months, which however are not yet in distribution: Marcin Gałązka used a standard, full black, polymer frame "Strike One". Another factor to stress is that Arsenal Firearms never directly or indirectly took part with an AF-1 "Strike One" pistol to any official or unofficial competition: the non-sponsored participation to the Bükk Mountain competition was the first time that an AF-1 "Strike One" pistol has been fielded in a shooting match.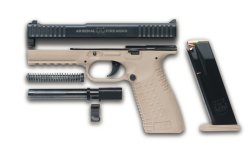 All sums up to the importance of such a result, and constitutes a testimony to the elegant and effective technical layout and good performance of the Arsenal Firearms AF-1 "Strike One" semi-automatic pistol.
Marcin Gałązka and the VISMAG company are slated to have an important role in Arsenal Firearms' future: the Italian manufacturer already contacted them asking for their consultancy to further improve the performance of the AF-1 "Strike One" pistol system in competition, and to make its presence on the internationally significant shooting sports more widespread and incisive.
The Arsenal Firearms AF-1 "Strike One" 9mm semi-automatic pistol is already available in several Countries in the European Union; its average retail price tops 700€. Non-European shooters should check whether their Country is covered by the Arsenal Firearms distribution network, or may contact Arsenal Firearms S.r.l. directly to ask further information.