It was one of the most successful "Wonder Nines" of the 20th century, and there are still hundreds of thousands out there. Until a few years ago it was the service pistol of the US Army and many military and law enforcement agencies all over the world, besides a lot of shooters, are still using, carrying and enjoying it. Yet, being born in 1975, the Beretta 92 was missing one important thing: due to its internal workings, the slide couldn't be milled low enough and the "proper" low mounting of a red dot optic was impossible. Until now at least: Langdon Tactical Technology (LTT) has in fact introduced a Micro Red Dot capable Beretta 92. The 92 Elite LTT with low mount Red Dot Optic (RDO) Cut Slide is available in Full Size, Centurion, or Compact versions, offering a system with a dot height above the center of the bore of .85" (when paired with a Trijicon RMR).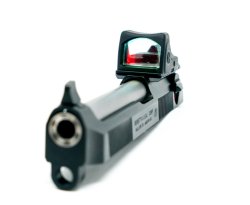 "This has been no easy task as the internal workings of the 92 slide have made the 'proper' low mounting of a red dot optic impossible. With the design of 5 new components and a custom mounting plate specific for the Beretta 92, Langdon Tactical can properly low mount a micro red dot optic,"  is explained on the Arizona-based company's website.
The slide has been milled down .140" to just above the extractor, and they had to "modify almost every part inside the slide" re-engineering five components – firing pin, firing pin block, extractor pin, safety plunger and safety levers – to permit the secure mounting of an adapter plate that is held in place with three mounting screws, a front dovetail, and a center indexing boss milled into the slide. For a perfect co-witness, the plate features a built-in back-up rear sight that mates up with a newly designed front sight for the Elite LTT and other Vertec type slides. 
Video: 92 Elite LTT with RDO Slide
This video has been hidden because of an external service (YouTube) that could potentially collect personal data.Allow video services for the duration of the visitAllow video servicesStop allowing video services
92 Elite LTT: modify your old slide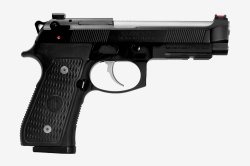 As for the prices, a LTT 92 pistol with RDO slide will range from 1495 USD to 2080 USD depending if you also want an NP3 treatment and carry bevel – all models include a trigger job, an optimized performance trigger bar and a 13-lb hammer spring. Alternatively, for 352 USD you can also send in your old Beretta slide and LTT will add the following package: a full top end rebuild to replace all of your stock components with LTT patented components, slide milling and prep for LTT's proprietary RDO plate as well as Cerakote on the slide in Elite Black, LTT's proprietary optic plate in the Trijicon RMR footprint (fits RMR, SRO, Holoson 507C and others that fit the RMR footprint), a red dot height front sight that matches the adapter plate built-in rear sight. But beware: the customization will only work on the 92 Elite LTT, 92X, M9A3, 92A1/96A1 as the machining is set-up for proper deck height and sights of these models only.