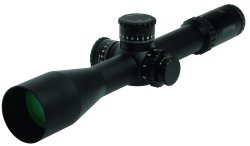 The German-based Steiner Optik GmbH company, a world leader in sports optics, now long-time owned by the Beretta Group, launched last year the "Military" line of tactical riflescopes, featuring four models (1-4x24mm, 3-12x50mm, 3-12x56mm and 4-16x50mm) developed under direct input and with the instrumental support of members from the global Special Forces community. New for 2012 is a fifth and more powerful design, specially conceived for use on long-range, tactical and sniper rifles in a combat environment: the Steiner "Military" 5-25x56mm extends the shooting range and provides outstanding visibility even in the lowest light conditions, thanks to its high magnification, large objective and unmatched optical elements.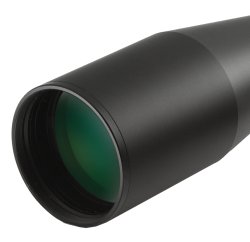 The Steiner "Military" 5-25x56mm riflescope features a rugged 34mm one-piece extruded aluminum main tube and world-class Steiner optical elements, featuring broadband ARC ("Anti-Reflective Coated") optics for maximum light transmission. The G2B Mil-Dot reticle is illuminated and glass-etched, and it is ideally located on the front focal plane, so subtension remains unchanged over the magnification range for quick and easy target identification, ranging and accuracy. The scope can also be equipped with the popular MSR reticle.
The digital illumination offers 11 intensity levels (seven night / four day) and a battery-saver position between each level with two OFF-positions at each end. The digital illumination and parallax adjustment are combined in a left-side turret for comfort and ease of use, with or without gloves on.
The windage and elevation on the Steiner "Military" 5-25x56mm scope are designed for precise adjustment. The windage knob, located on the right side of the tube, is calibrated for up to 5 mils of adjustment for both left and right adjustment. For shooting at extreme distances, the elevation knob on the Steiner "Military" 5-25x56mm riflescope offers up to 19.5 mils of adjustment over the course of two turret revolutions.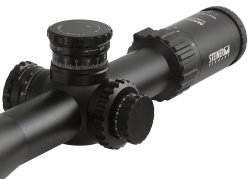 Fully waterproof to 10 meters and shock proof to 900 G's, the Steiner "Military" 5-25x56mm riflescope is also nitrogen filled to be internally fogproof.

This new long-range military riflescope will retail for $3095.99.

Headquartered in Germany, Steiner has been widely acknowledged as a world leader in the manufacturing of high quality optics since 1947. In addition to the outdoor, hunting and marine markets, Steiner provides products to military and law enforcement worldwide. Allied forces around the world ‒ including the U.S. Army and countless law enforcement agencies ‒ have made Steiner their binocular of choice.