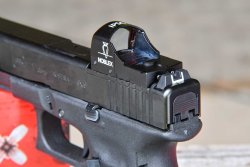 Similarily to Burris, the Noblex sight is also one of the oldest miniaturized reflex sights. The Eisfeld-based company Noblex has a long tradition in the construction of optics and optical measuring instruments. The former name Docter is still familiar to many readers.
Noblex sight II plus IPSC and sight C: differences
Noblex produces several series, whereby the IPSC sight is strongly recommended for use on a pistol slide due to the high acceleration forces caused by cycling. In the IPSC version of the Noblex sight II plus, for example, the printed circuit board is embedded in silicone and the lens is glued all the way around rather than selectively, as is the case with the less expensive C model. The housing of the IPSC variant is milled from Dural at Noblex, while the Noblex sight C has a housing cast from light metal.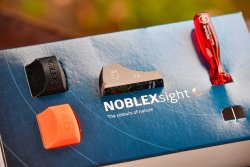 According to the manufacturer, the C model, which is available in various colors, is particularly suitable for use on rifles and revolvers. For pistols, it should be fixed to the frame via bridge mounts and not mounted directly on the slide. In addition to the classic black and the "Savage Stainless" finish shown here, Noblex also offers the C version in various colors and patterns and also produces corresponding special series. At the moment, the company is working on a carbon-look C-version colored by water transfer printing. Noblex sight II plus IPSC and C sight are available with either a 3.5 MOA dot or a 7 MOA dot.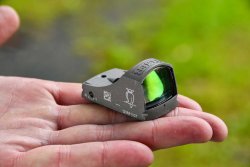 In both versions, the battery is inserted from below. As a result, zeroing may be necessary after the battery change, but according to the manufacturer this should also offer clear advantages over side battery compartments in terms of water resistance. You won't have to replace the power source too often, anyway, since Noblex claims an operating time of 26,000 hours for a CR2032 battery.
Even if pistols with suitable mounts for red dot sights are currently in vogue, not all have them. For those who would like to use a Noblex sight without having to buy a new pistol, Noblex has several mounting plates in its range that can be inserted into the existing rear dovetail of standard older pistol models. There is a choice of plates for Heckler & Koch USP, GLOCK pistols, the BoMar slide cut-out typical of many 1911s, SIG Sauer and CZ 75/85.

Noblex red dor sights: technical data
| | | |
| --- | --- | --- |
| Model: | NOBLEX sight II plus IPSC | NOBLEX sight C |
| Price: | 440 euro | 340 euro |
| Dimensions (L x W x H): | 46 x 25 x 24 mm | 46 x 25 x 24 mm |
| Window (H x W): | 0.82 x  0.98 in (21 x 15 mm)   | 0.82 x  0.98 in (21 x 15 mm)   |
| Weight: | 0.88 oz / 25 g | 0.88 oz / 25 g |
| Dot size: | 3.5 / 7 MOA | 3.5 / 7 MOA |
| Battery: | CR2032 | CR2032 |
Noblex sight II plus IPSC and Noblex sight C: our conclusion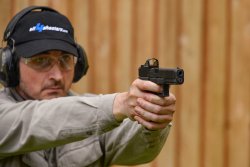 Franco Palamaro, © F.PALAMARO
Noblex sights are very mature products which have their roots in the Docter sights introduced in 1999. They are therefore popular and well-established among many shooters. The Noblex sight II plus IPSC is no exception, and in combination with a GLOCK 17 Gen4 MOS it fully proved its value. The only complaint is that sometimes it would be nice to be able to manually adjust the brightness of the illuminated dot and not just rely on the automatic brightness control. But this is whining on a high level.

If you don't want to use your red dot sight on a pistol and would like to save 100 euro, the Noblex sight C is the right choice from our point of view. It resembles the Noblex sight II plus IPSC in many details and dimensions and is perfectly suited for use on revolvers or long guns.