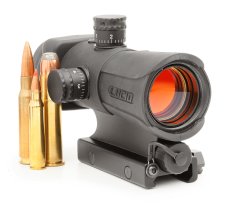 They are not exactly new: as a matter of fact, Lucid optics have been around since 2009. With a products line comprising red-dot sights, magnifiers, hunting scopes, accessories and even knives, the Lucid company − headquartered in the town of Riverton, Wyoming − is still little known outside of the United States, while in America their products are quite popular! It is definitely not easy when you have to compete with big names such as Trijicon, Aimpoint, L3/EOTech or Browe; and yet, Lucid optics is still capable to offer products totally engineered and manufactured in America, offering high quality and performance levels, that represent great alternatives to the ones sold by the above-mentioned, well-known manufacturers, while maintaining lower, more accessible price levels. And, with the market for Modern Sporting Rifles (civilian-grade, semi-automatic sporting rifles and carbines aesthetically and technically patterned after military service rifles, sometimes incorrectly called "assault weapons") showing no sign of decrease, their main product is a tactical-style red-dot sight, the HD-7.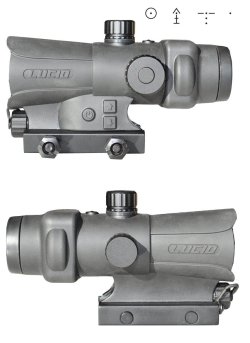 Launched four years ago, the HD-7 red-dot gunsight has been Lucid's mainstay product, and a top seller in the United States, ever since.


With several sales having been placed to military and law enforcement units, the HD-7 red dot sight has also been battle proven, and while the Lucid company believes in the old adage, "If it's not Broken, don't fix it", engineers thought it was time to make a set of customer requested improvements to the HD-7 and introduce the Generation III Unit. These improvements include capped turrets, a new reticle set with more capabilities for the operator built in and the availability of a KillFlash Accessory.
As with the original version of the HD-7 you don't have to compromise with the GEN III HD-7. As no shooting situations are ever the same, Lucid engineers think optic should be able to provide functional feature benefits to assist in most situations; and, as a matter of fact, the HD-7 has been designed from the ground up to be a strong, reliable optic that offers the most in operator selectable features and benefits that exceed the market standards at a price that is friendly to the wallet.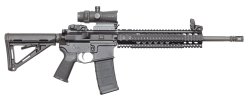 The Lucid HD-7 red-dot gunsight features a fully cast aluminium frame, protected by a chemical rubber armor for full protection against water, humidity, environmental aggressive elements, and other factors that may damage it; it also has a lower 1/3 co-witness and 13mm mounting nuts with reversible mounting pins, plus a built-in Picatinny rail mount. Weighting merely 13 oz., with a 34mm objective lens and a 20mm ocular lens, the Lucid HD-7 gunsight also features a plethora of other premiere features, such as four different illuminated reticles, all based on a 2 MOA dot, and capped ½MOA adjustment notch.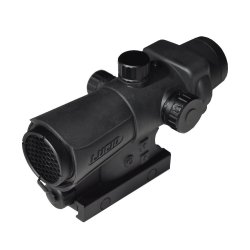 The Lucid HD-7 red-dot gunsight is powered through a single AAA battery, hosted inside an easy-access seat with a leashed cap located right under the objective lens. The red dot and illuminated reticle can be regulated to seven different brightness levels through a small side-mounted control panel − a on/off button and two +/- buttons − while top and side tutrets control windage and elevation, and allow selection of reticle. The illumination device features an auto-brightness sensor, as well as an auto shut-off system that powers the illumination out every two hours to save battery power. Plus, the Lucid HD-7 red-dot gunsight sports a 35 feet field of view at 100 yards, is parallax-free, and totally shockproof, so that it may be employed on rifles and carbines chambered in very high calibers, such as the .458-SOCOM cartridge. Available add-ons and accessories for the Lucid HD-7 include a QD mounting kit, a "Killflash" filter, leashed turret caps, and a 2x magnifier. All Lucid HD-7 red-dot gunsights are covered by a limited lifetime warranty; manufacturer's suggested retail price for the HD-7 in the United States tops US$249.00 for the matte black version and US$259.00 for the flat dark earth (desert tan) version.