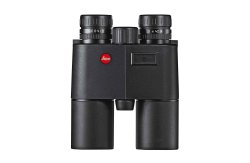 Leica Sport Optics introduced a new premium entry-level series of laser rangefinding binoculars, the Geovid-R, featuring the core of the German's manufacturer's proven range finding field performance at an affordable price. 
The Geovid-R completes Leica's line of rangefinding binoculars, along the vastly popular Geovid BRF, HD, and HD-R product lines. Four models are available, 8x and 10x42mm and 8x and 15x56mm; all feature Line of Sight (LOS) ranging from 10 to 1200 yards, single button easy operation, full binocular functionality and Leica's Effective Horizontal Range (EHR) function. Each model can be purchased in meters or yard specific versions.
The EHR feature of the Geovid-R provides precise shooting distance data corrected for angled shots for distances from 10 to 600 yards. Using the EHR feature requires no previous knowledge of ballistics, and it is automatically displayed when measuring targets at an angle.
Built using a nitrogen purged, rugged aluminum frame and highly grippable and shock-absorbing rubber armoring, all Geovid-R series models feature a roof prism with phase corrected P40 coating optical scheme, and lenses that are fully multi coated with HDC external lens surface coating. Prices start at 1749 US dollars with the Geovid 8x42 R.