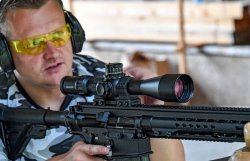 Kahles has been offering the K525i 5-25x56i tactical riflescope since 2018. The K525i was not only able to impress us in the test, because it is also the first choice for many sport shooters worldwide (see #TeamKahles shooters).

The reasons? With the K525i, Kahles has again succeeded in combining maximum optical performance and precision with unique handling and ergonomics in a rugged professional riflescope. In addition, there are well thought-out detailed solutions such as the Twist Guard anti-twist protection. Kahles also offers all variants of the K525i with the option of left or right side adjustment.

Previously, six precise illuminated reticles were available in the 1st image plane and shooters could choose MSR2/Ki, Mil4+, SKMR4, SKMR, TREMOR 3 or MOAK. Now a seventh option is added with the AMR reticle.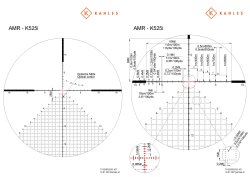 AMR stands for "Advanced Milling Reticle". This is a tactical reticle designed primarily for long-range specialists. Some of you may already be familiar with it from the Kahles K624i, where it has been proving its functionality for several years. Thanks to the simple logic of the 1-mil square system, the shooter can quickly find the appropriate elevation and windage corrections. This works not only in normal shooting positions but also for the most difficult "90° shots".
From March 2021, the Kahles K525i AMR will be available in the CCW version at an MSRP of 3400 euros. Here, you can choose between two model variants with left or right side adjustment.