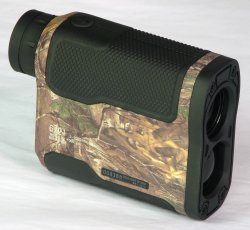 Bushnell Outdoor Products
Rifle hunting and bow hunting, rifle and carbine target shooting and archery, all have something in common: long wait, a thorough assessment of the situation, until the moment comes to fire that shot or to shoot that arrow that will bring the food to the table, or hit that one more bullseye required to win the gold medal. Of course, nothing it's as simple as it gets. It takes training, practice, passion, and sometimes, it even gets that extra tool that will provide a better assessment of the overall situation and will help to turn many variants to your favour − and, as a matter of fact, we know pretty well how some shots would be just impossible without said "extra tools". This is particularly true when dealing with moving targets, such as when hunting deer or other wildlife, but that's also the case of extreme long-range shooting competitions.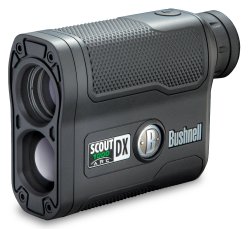 Bushnell Outdoor Products
There's somebody else, out there, that's perfectly aware of this − and that's the Bushnell Outdoor Products company. Headquartered in Overland Park, Kansas (U.S.A.), Bushnell has been provided the required "extra tools" to hunters, sports shooters and professional operators for decades now. Knowing how important it is to master all variants to achieve that "perfect shot" every time it's needed, Bushnell has been offering for several years now a comprehensive line of pocket, specialized, high-technology laser rangefinders dedicated to the needs of hunters and sports shooters alike, sporting a series of integrated features that would make their lives a lot easier. New for 2013 is another great addition to the Bushnell's line of laser rangefinders: the Bushnell Scout DX-1000 ARC.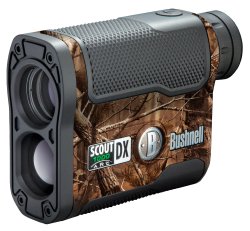 Bushnell Outdoor Products
The new Bushnell Scout DX-1000 ARC laser rangefinder offers hunters and shooters a host of features that will help them identify and range targets quickly. The Scout DX-1000 ARC provides accurate distance readings from 5-1000 yards with +/- ½ yard accuracy.
Featuring the new ESP ("Extreme Speed Precision") processor from Bushnell, the Scout DX-1000 ARC rangefinder provides faster and more precise distance readings than ever before, including 1/10th yard display precision within 125 yards. Featuring the patented "Angle Range Compensation" (ARC) technology, the Scout DX-1000 ARC rangefinder from Bushnell instantly accounts for terrain angles to provide bow hunters with the "shoots like" distance and rifle hunters with holdover data in inches, centimeters, MOA or MILs. In addition, the rangefinder includes "Variable Sight-In Distance" (VSI), providing shooters with holdover data based on a 100, 150, 200 or 300 yard zero. And, with three modes of operation – Scan, BullsEye and Brush – the Bushnell Scout DX-1000 ARC laser rangefinder is just as effective in the woods as it is on the open plains. And with a six power magnification optic, hunters and shooters will have no problem identifying and ranging targets at long ranges.
This video has been hidden because of an external service (YouTube) that could potentially collect personal data.Allow video services for the duration of the visitAllow video servicesStop allowing video services
The rangefinder features a slim vertical design that's protected with a rugged, waterproof housing. The Bushnell Scout DX-1000 ARC laser rangefinder includes a neck strap and carrying case, and is available in both black and the new Realtree Xtra camo pattern for $299.99 and $319.99, respectively.
With the new Bushnell Bulletproof Guarantee, the Scout DX-1000 ARC is backed with a no questions asked 100 percent money-back guarantee. Within one year of the date of purchase, if for any reason the consumer isn't completely satisfied with the laser rangefinder, it can be returned to Bushnell for a full refund.