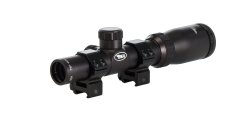 Founded in 1861, the  BSA - Birmingham Small Arms Company has been one of Britain's most glorious and important gunmaking company, as well as one of the most appreciated players in the field on the global market.
Unfortunately, BSA fell victim of the progressive worsening of the British gun laws that led to the current almost total prohibition. It however continued to survive as a manufacturer of high-end sporting and hunting airguns, once again quickly earning a reputation as a provider of top-notch products for the most demanding and discerning customers.
The BSA brand was acquired years ago by the Spanish-based GAMO Outdoor company, and it now dubs as the "luxury brand" of the group: while GAMO airguns are known to be rugged, reliable entry-level instruments, the BSA-branded airguns are considered to provide superior quality and performance, more apt for official field target shooting competitions and other similar purposes.
Furthermore, the BSA brand is also used for a wide array of accessories marketed by the GAMO group; most notably, the BSA Optics branch − headquartered in Houston (TX, USA) − earned a solid reputation as a provider of red-dot sights and scopes for airsoft replicas, low-power and high-power airguns, hunting and sporting rifles and shotguns.

Manufacturing and marketing synergies with some highly specialized plants, mostly located in Asia, allow BSA Optics to offer variable-quality optics, ranging from entry level and up, with an unsurpassed price point comparison against any other manufacturer of similar scopes or gunsights in the optics industry.
A perfect example is BSA Optics' latest Tactical Weapon 223 riflescopes line, conceived for modern sporting rifles, launched early on in August and so far met favourably by customers.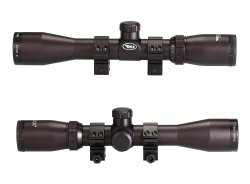 Just a few days ago, BSA Optics announced the launch of four new models − forming a "sub-line" within the Tactical Weapon 223 series − built around a hard-anodized, two-piece machined aluminium 30mm tube, allowing more light internally to improve visibility and performance.

The new BSA Optics Tactical Weapon 30mm riflescopes are available in 1-4x24mm, 2,5-8x36mm, 3-16x44mm and 3.5-10x40mm versions.

All of the four models feature multi-coated lenses, a fully adjustable Mil-Dot reticle, a 3.5"/88,9mm eye relief, UV-proof Haze filters, a quick-zoom dial and a fixed parallax setting at 100 Yards (91,44 metres). Furthermore, all models are fully shock-proof, water-proof and fog-proof, and are covered by a limited lifetime warranty.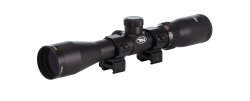 Just like all other models in the Tactical Weapon 223 line, the four new BSA Tactical Weapon 30mm scopes come with two sets of interchangeable turret caps, with different color-coded grain weight settings, allowing the shooter to quickly adjust his/her scope to provide the best performance depending from the type of ammunition he/she is using at the moment.
The 5,56x45mm/.223 cap is set for 55gr., 69gr. and 75gr. loads; the .300-AAC "Blackout" cap is set for 115gr., 125gr. and 220gr. loads.
The price of the new BSA Optics Tactical Weapon 30mm scopes is enticing as usual, standing at $117.95 for the TW1-4x24mm model, $149.95 for the TW2,5-8x36mm model, $169.95 for the TW3-16x44mm model and $184.95 for the TW3.5-10x40mm model.
As of today, the distribution of the four new BSA Optics Tactical Weapon 30mm scopes has just started in the United States of America; it's thus too soon to slate anything concerning their international availability and pricing.
all4shooters.com will of course keep you updated on the subject; further information may alwo be asked to your national authorized distributor of the GAMO Outdoor group products.

This video has been hidden because of an external service (YouTube) that could potentially collect personal data.Allow video services for the duration of the visitAllow video servicesStop allowing video services