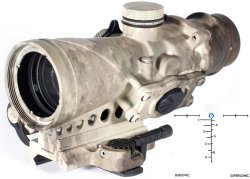 BROWE Optics, Inc., a Madison Heights (Michigan, U.S.A.)-based company known as a distributor of DOCTER optics and American Defense Mfg. mounts as well as for its own brand of 4x32 BCO ("Browe Combat Optic") evolved, high-technology tactical gunsights available for a wide array of calibers and tactical situations as sturdy, reliable and lower-cost alternatives to famous brands such as Aimpoint or Trijicon, announced at the end of August the launch of a specialized version of the 4x32 BCO itself intended for use with the .300-AAC "Blackout" caliber, a cartridge that is gaining increasing popularity within the U.S. shooters' community. BROWE 4x32 BCO optics are based on an internally adjustable roof prism optical system with an etched glass reticle, which helps to maintain a short overall length, a platform that has proven itself successful with currently deployed products.  All BROWE lenses are precision ground of the finest quality optical glass available and are broad band anti-reflective coated possessing excellent light gathering capabilities even under low light conditions. The glass etched reticle incorporates an LED coupled with microprocessor technology and a cadmium-sufide photocell to measure target light levels, automatically adjusting the reticle to match target lighting conditions.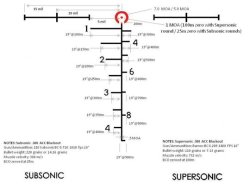 The 4x32 BCO .300-AAC "Blackout" reticle is based on the popular horseshoe-and-dot style and provides a bullet drop compensated (BDC) reticle for both the subsonic and supersonic ammunition. The 7 MOA horseshoe has a 5 MOA inner dimension and provides an illuminated 2 MOA wide ring for quick target acquisition. The center 1 MOA dot gives the operator that precision shot and was designed to be zeroed at 100m with the supersonic round or 25m with the subsonic round. For long range precision, the 4x32 BCO .300-AAC "Blackout" reticle features a BDC reticle that ranges out to 900m for the supersonic and out to 400m for the subsonic. The horizontal stadia lines represent 19" at the indicated ranges. The reticle also offers a horizontal mil scale that has an overall length of 30 mils, with indicators every 5 mil.
The 4×32 BCO AAC .300 blackout reticle is available in four color options including amber, blue, green, or red. As standard with all the 4×32 BCO's the illumination is controlled automatically with the BCO Target Light Sensor Technology. The target light transmission is measured and automatically adjusts the reticle to the proper illumination level. The 4×32 BCO also features a manual override if a consistent light level is required.

---
For further information

BROWE, Inc.

30870 Stephenson Highway, Suite C
Madison Heights, MI

48071 - U.S.A.

Tel.: +1-800-407-3150 
Fax: +1-248-284-0915