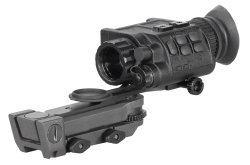 ATN Corp. - American Technologies Network Corporation
ATN Corp. (American Technologies Network Corporation), makers of military, law enforcement, security and outdoor night vision and thermal applications, has announced the new-for-2012 market launch of a new multipurpose thermal sighting system comprising two devices, called respectively the OTS-32 and OTS-64, featuring intuitive controls, good performances and a reasonable price tag. The OTS-32 and OTS-64 devices are built around state-of-the-art uncooled thermal imaging technology, with integrated DSP-based electronics in a compact and lightweight construction, and can either be used as handheld systems or mounted on helmets or firearms thanks to their built-in MIL-STD-1913 Picatinny quick-release interfaces. They provide excellent image quality through total darkness, fog, smoke and other visual obstructions; not even camouflage or bright lights will affect the sensitivity of these units. The reticles on both systems can be set to four different colors (black, red, green or white) in order to adapt their visibility to the light conditions and mode of use.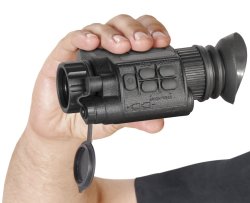 ATN Corp. - American Technologies Network Corporation
The fast imaging video frame rate for the OTS-32C and OTS-64B models is set on 30Hz, that rise up to 60Hz for the OTS-32D and OTS-64A models from a shared 9Hz standard imaging rate. Both models feature an E-Zoom capability, menu functions including reticle type and color selection, windage and elevation adjustment, and polarity single button modes (black on white, white on black, 5 different color settings), while the resolution changes from 320x240 on the OTS-32C models to 640x480 on the OTS-64s. A video output port on all variants can be connected to any monitor through an RCA cable. All versions are powered through two CR-123 batteries providing over 4 hours of continuous use, and are covered by a limited one-year warranty.