Article also available in other languages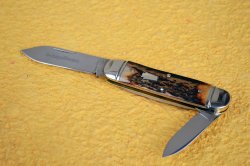 Queen Cutlery was started in Titusville, PA in 1895. Two years after Queen acquired a facility plant started by Sheffield immigrants, sharing the heritage of british know-how. After almost 120 years Queen Cutlery knives are still carefully made with passion and uncompromised quality. Handling a Queen Cutlery knife is like driving a Mercedes: you can hear the "walk and talk" of the blade when it is opened and closed.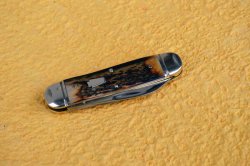 According to top knifemaker Jess Horn, this is the most distinghiushed element to obtain in a folding knife.
Pictured here is the "baby Sunfish" a commemorative knife that celebrates Schatt and Morgan, the founders of the factory. Blades are 65 and 55 mm long, with razor sharpening. Handle is stag, bolsters are nickel for an overall weight of 93 grams.