Some of us here at all4shooters.com have a soft spot for unusual, exotic and exaggerated blades. So, when Cold Steel expanded its popular Ti-Lite series of carry folding knives with the introduction of three new kris-style blades, we couldn't help rejoicing. "The Ti-Lite series was developed by famed knife maker Phil Boguszewski in the classic style of the 1950s switchblades. These knives are sized for comfortable pocket carry and utilize a strong stainless steel leaf spring lock able to withstand up to 145 lbs. of pressure," they explain ad Cold Steel. The Ti-Lites are in fact equipped with stainless-steel leaf spring locks.
Cold Steel  Kris Ti-Lite knives details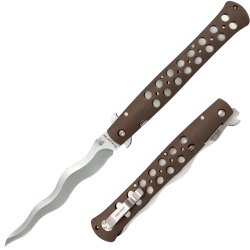 The new Kris Ti-Lite blade models are offered with four- or six-inch blade lengths and a standard edge or a 6-inch-long blade with a serrated edge. Blade thickness is 3mm and 4mm thick for four- and six-inch blades respectively. The steel used is AUS 10A steel for strength and edge performance, while finish is high satin polished.
The  Kris Ti-Lite knives also come with Griv-Ex handles in flat dark earth. According to the manufacturer, these handles provide a sleek, positive grip "with additional retention courtesy of a slight pommel swell". A small but unobtrusive steel pocket clip is present.
Blades can be deployed via thumb studs or blade-integrated quillons, which can be used to open the blade on draw by snagging the edge of the carry pocket. The Kris shaped blades come razor sharp and are suited for cutting and piercing.
Prices in the US range from  $89.99 to $114.99.
---