For its Reverb folding knife, the American company Kershaw first of all thought about minimizing weight and size while keeping the knife large enough to carry out EDC (Everyday Carry) tasks.
So the Reverb has dimensions that only touch the "Gentleman" type with a 2.5 in / 64 mm long blade and an overall length of 6.1 in / 155 mm. What is more interesting, the weight is only 1.6 oz / 46 g, which makes it ideal for a daily carry and frequent use.
Kershaw Reverb: the light folding knife for everyday use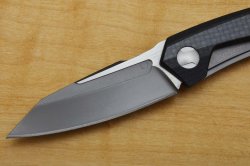 Even if small and light, the Reverb is not just a "letter opener". There are no flippers, holes or pegs to assist the opening but only a recess milled directly into the left side of the blade, which is made of 8Cr13MoV steel and benefits from a partial titanium carbo-nitride surface coating.
The blade, which has a profile that can be defined as "modified sheepfoot", is "just" 0.01 in / 2.5 mm thick but this is not necessarily a problem.
The rather sharp tip allows to exploit the good factory sharpening for precision work.
The blade has a frame lock to lock the blade open during use. This lock is quite secure, at least on the sample we tested.
The lower plate on which the lock is mounted is made of steel, and just as the blade it is partly finished with a nitride coating and a partly satin, while the only handle is in G10 with a carbon fiber overlay that, also thanks to the particular grip design, gives the Reverb a modern and technological look.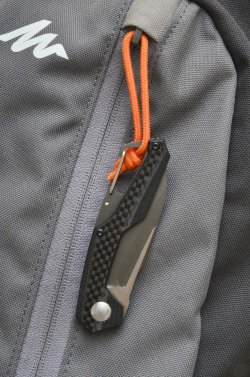 Thanks to the small carabiner clip with wire lever the Kershaw Reverb can be easily attached to a backpack so that it's at hand, but for those who prefer a more conventional carry method, on the lower plate there is a low-profile clip that allows to carry the knife in the pocket in a "tip up" position.
Ultimately, the Reverb is a good knife for everyday use that in case of need can offer something more in terms of blade length. The aesthetic is modern and catchy and it does not look like a knife that, after all, on Amazon.com costs just over 20 euros (even if the list price should be about twice).