Jack Pyke product range is perfect for the hunter, fisherman, bush-crafting or just outdoor lover. It's even good for farmers or gardeners, being that recreational or professional.
If you fit to any of the above mentioned categories you will need a well-built knife at some point in your live, but most of the time we all put up with tools that are not quite right for the job to say the least, and this way we we put ourselves in danger of personal injury by using not appropriate tools.
To begin with, I think everyone should know that a blunt knife is a dangerous knife, and we're simply asking for troubles by using it. We're naturally going to putting a lot more pressure on the blade to do the required task. Therefore the chance of slippage increases dramatically, and when it happens we will end up with – at the very least – a cut.

Jack Pyke Poacher knife features
When it comes to Jack Pyke "Poacher" knife, there is no such problem as the blade is razor sharp straight out of the box (it is a common sense to have a decent "stone" available to deal with blunt blades on the spot, or it should be sharpened on return home).
The three blades that are included on the knife are: standard knife blade, gutting hook and a saw blade. As I've already mentioned above, the main knife blade is razors sharp and the serrated blade cuts through branches, bones and cartilages like a hot knife through butter.
Each of the three blades has a well-built locking mechanism featuring an individual "lever" for every blade that must be pressed/pushed before the blade has any chance of folding back in on itself.
Each of the blades is 3" in length, with the serrated section on the saw blade being 2.5"/ 6.3 cm.
One of the appealing features is the unique Jack Pyke "English Oak" design pattern that adorns the handle. A nylon belt sheath is included.
I have had few similar knives to the "Poacher" knife before and they did performed well, but the blades on the other knives had never lasted as long as I had expected with the "Poacher".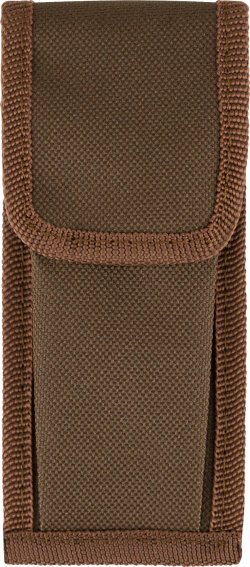 First impression
In last few weeks I've already used the "Poacher" knife for several jobs such as cutting wood, strings, rope or to clear vegetation and many more other smaller jobs around the farm, and it performed great. On my hunting outings this knife worked very well on quarry like pigeons, rabbits and deer. The dimensions of the knife allowed me comfortably manoeuvre inside and outside the carcasses regardless of the size of the carcass.
At the end of the day, the Jack Pyke "Poacher" knife's qualities can be summarized as follows:

Well designed mechanism
Fits comfortably in any hand size
Holds the edge for very long time and easy to sharpen again
Locking mechanism safe and with no compromises
Very well built and thought through
A great knife all around. Last but not least, price is a very affordable 15.95 pounds, or less than 19 euro



Jack Pyke Poacher knife specs
| | |
| --- | --- |
| Type: | folding knife |
| Overall length opened: | 7.5"/ 19cm |
| Closed length: | 4.5"/ 11.5cm |
| Blades: | fine edge, gut hook, saw |
| Blades length: | 3"/ 7.62 cm |
| Blades material: | stainless steel |
| Weight: | 220g |
| Locking system: | individual blade back locks |
| Finish: | black coated |
| Frame: | stainless steel |
| Price: | 15.95 GBP (around 19 euro – price may vary in your country) |