Lucas Burnley is a young American knife maker who is experiencing a period of great fame thanks to some successful collaborations, such as the one with the Maniago Consortium of Cutlery Manufacturers' MKM project. Designed for Columbia River Knives & Tools, better known as CRKT, this knife resumes the design and rounded lines typical of Lucas Burnley's style.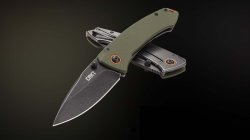 If there's one thing we have perfectly understood about Lucas, it's that he doesn't like frills, and all his designs are recognizable by their clean and essential lines, focused on maximum efficiency
This folding knife called Tuna with a rugged frame lock is no exception. The blade of the Tuna is made from 8Cr14MoV steel and is 3.22"/82 mm long and 0.15"/3.8 mm thick. The blade edge is plain with a dark stonewash finish. The knife features a thumb stud for ambidextrous, easy one-hand opening. Overall length is 7.69"/195 mm – 4.49"/114 mm closed.
The handle is composite: the left scale is olive green G10 while the right one, on which the locking lever is placed, is in stainless steel, still with a sonewash finish. On the metal scale is also placed the stainless steel clip, which allows a "tip-up" knife carru, i.e. with the tip facing upwards.
The CRKT Tuna is a handy and lightweight knife, suitable for everyday carry but able to withstand some more heavy duty thanks to the rugged and tested locking system. It will be certainly appreciated by those who love knives with essential and no-nonsense lines.
The retail price of the CRKT Tuna is 69.99 USD.

CRKT Tuna knife specs and price

| | |
| --- | --- |
| Manufacturer: | CRKT USA |
| Designer: | Lucas Burnley |
| Model: | Tuna |
| Type: | EDC folding knife |
| Blade: | 8Cr14MoV steel |
| Blade Length:  | 3.22"/ 82 mm |
| Blade Thickness:  | 0.15"/ 3.8 mm |
| Handle:  | G10 / steel |
| Locking Mechanism:  | frame lock |
| Overall Length:  | 7.69"/ 195 mm |
| Weight: | 3.7 oz/105 g |
| Price:  | 69.99 USD |