Philip Booth is a knifemaker based in Ithaca, in the US state of Michigan, where he makes knives and "strange things" – as he says on his Facebook page. Philip's knives are in fact quite particular, being characterized by a rather beefy but definitely original design. Among the various awards received by Phil, we should mention the award for the most innovative design won at the Atlanta Blade Show in 2016. 
For his CRKT project he substantially revised the design of his "Beaver Cleaver" custom model featuring a cleaver-shaped blade, adapting it to industrial production but keeping both its charm and functionality intact. The first thing you notice when the knife is still closed is the  2Cr13 stainless steel inlay that crosses diagonally the scales, effectively livening up the otherwise very spartan aesthetics. The name of the knife – "Ripsnort" – actually reflects its designer's eccentric character

Details of the CRKT Ripsnort D2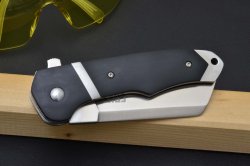 The Ripsnort opens by use of an easy-to-operate flipper and the blade locks in place via a sturdy, 2.25-mm thick liner lock. Once the blade is open and locked, the flipper acts as a substantial guard that protects the index finger and prevents it from sliding towards the blade.

The handle profile is well thought of, with a smooth and almost straight back and a lower section tapering towards the tail. This provides a good grip for your fingers. Surely, it's a handle suitable for those with medium and large hands. On the right side of the knife we find a small stainless steel clip that allows for tip-down carrying. Clip is removable but can't be repositioned. In the inner part of the steel liners there are some lightening cut-outs.

The Ripsnort is available with a 8Cr13MoV stainless steel blade, which is widely used in Chinese production knives of not very exciting quality, and with a more performing D2 steel blade, as in the model we tested. The difference in price between the two versions is just a few bucks more, so while not having anything personal against 8Cr13MoV steel, we suggest you to consider the D2 as your main choice.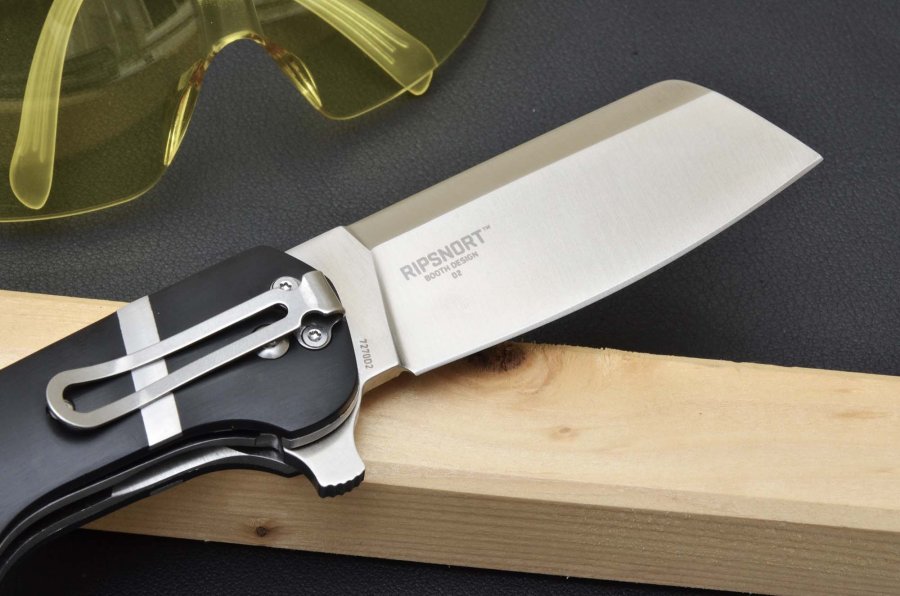 The blade, which is 3.25"/83 mm long and 0.11"/3 mm thick, is cleaver-shaped. It doesn't have a real tip but it provides a remarkable cutting capacity: the front edge of the blade can be used for precision work as if it were a cutter, while the slightly convex full edge cuts very well, thanks also to an excellent factory sharpening. The blade is satin-finished with a smooth edge – no other options are available.
The CRKT Ripsnort is not very light: it weighs 5.8 oz/165 grams, which for a knife with an overall length of 7.7"/197 millimeters are not few, but not too many either. What is certain is that opening it and holding it between your fingers communicates a great feeling of solidity.
Let's talk about prices: the model with 8Cr13MoV steel blade is 74.99 dollars (about 69 euro) while the one with D2 blade costs 84.99 dollars, or 78 euros. As said earlier, the difference is not much.

The Ripsnort is an interesting knife for those who are looking for a tool suitable even for demanding cutting work, compact in size but with a smidge of extra strength.