New from CRKT, the Rave XL knife is advertised as an "everyday carry blade that doesn't like to sit around on the shelf". In fact, this pocket folding knife with locking liner features a stainless steel, modified drop point blade with a sturdy EDP black corrosion resistant coating and a Rockwell hardness of 55-57 HRC. Blade length is 2.75" (69.85 mm), with a thickness of.120" / 3 mm.
The rugged, textured grips are Glass-Reinforced Polypropylene with TPR insert for superior holding power. The liner locks up the blade securely. To close the blade, you must simply use your thumb to move the locking liner over. 
CRKT Rave XL, durability and ease of use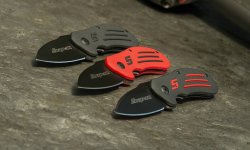 The CRKT Rave XL was designed by Ken Onion, the youngest ever inductee into the Blade Magazine Hall of Fame in 2008. Onion is recognized as one of the most innovative and successful knife designers of all time and he designed folders that have won awards.
With the Rave XL he created a knife that, according to its manufacturer, "is tough enough to cut hose but still precise enough to strip wiring. Meanwhile keeps the blade intact no matter what you put it through in the shop." In fact, durability and ease of use are the keywords here.
The Rave XL knife is available in three color combinations – red, black or black and red.

CRKT Rave XL: technical data 
| | |
| --- | --- |
| Model:  | Rave XL |
| Type:  | folding knife w/locking Liner |
| Blade length:  | 2.75 in / 69.85 mm |
| Blade material:  | 1.4116 steel, 55-57 HRC |
| Handle:  | glass-reinforced polypropylene with TPR Insert |
| Weight:  | 6.2 oz. / 175 g |