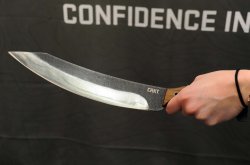 Liong Mah designed Mah-chete as a survival knife he could use in a variety of situations. So he designed a machete with a distinctive upswept overall shape. 
The Mah-chete is a survival machete that fits in your backpack, and is ready to tackle even the biggest reeds and grass.
Lanyard holes in the comfortable walnut handle allow for a secure forward carry, while the upswept overall shape maximizes cutting performance, and the hand ground 12 "carbon steel blade with hammer-forged finish is crafted to stay sharp. The Mah-chete comes equipped with a reinforced nylon sheath that has a drop down option so you can strap it to your leg. There's also extra paracord attached to the sheath for survival emergencies. Pictured here in the hands of Lindsey Phelps, CRKT international sale manager.