The CRKT Knife Maintenance Tool was designed by Tom Stokes, a mechanical engineer with over twenty years of experience in aerospace industry who has been collaborating with the Tulatin-based company for more than ten years.
Already in 2007 the "Guppie" multitool, designed together with Lance Barber, had been awarded as the "best buy" (best quality/price ratio) at the Atlanta Blade Show, the world's most important exhibition for commercial knives. Eleven years later, Tom Stokes tastes again victory, as his KMT won the best tool award this year.
CRKT Knife Maintenance Tool: features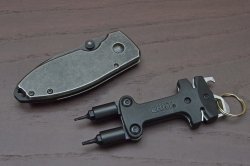 It is a rather basic tool, dedicated to the small maintenance of folding knives. The vaguely "T" shaped central body is made of glass-fiber reinforced Nylon.
Along the sides of the body/handle there are two bit holders with T6 and T8 Torx heads mounted on a swinging arm. Nothing could be simpler than opening and closing them according to need. On the opposite side of the handle we find two sharpeners, one ceramic and one tungsten carbide.
Finally, a protruding steel element (in fact it is the extension of one of the two internal plates) acts as a flat-head screwdriver with a bottle opener, acting also as a key ring hole.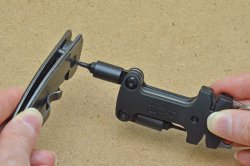 Despite being a small, light and relatively inexpensive tool, details have been taken care of very well.
We start with bit holders, which offer good resistance to opening and remain locked in working position thanks to a friction system. 
The two bits are standard measures to remove the screws used in most US made folding knives. In any case they can be easily replaced with others of the right type and size. The two bits supplied are also slightly magnetic to hold small screws more easily.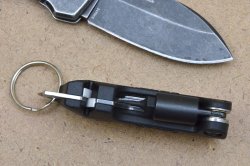 The two sharpeners are suitable for standard-sized fixed and folding knives.
The bottle opener is a bit "off topic", but since it does not add bulk and weight to the tool (at least not in a sensitive way), it's fine to open a well-deserved beer after fixing your knife.
The Knife Maintenance Tool by CRKT is 2.67 in / 68 mm long and weighs 2.15 oz / 61 g – very lightweight. The list price is also light: on the CRKT website it is 29.99 USD.