Luigi Pirandello certainly wasn't thinking of a knife when he wrote  his play "It Is So! If You Think So!" but for one of those delightful combinations in which objects, definitions or phrases with no apparent relationship to each other, spontaneously combine, that title and this knife are in perfect harmony.
The CRKT Journeyer has been designed for the British market. Amongst the endless prohibitions surrounding knives, in Italy it is illegal to carry one, whilst in many American states, the mere possession of a Balisong is punished by a jail sentence, to name but two particular cases. 
In many countries automatically opening knives are illegal, in others assisted opening knives are illegal, whilst in others like Denmark, its knives that can be opened with one hand. The United Kingdom has banned knives that have a device to lock the blade as it opens.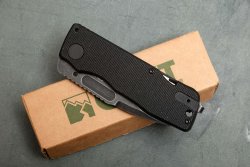 Anyone with even a little common sense realises that a device that locks the blade does not turn the knife into a lethal weapon, but simply transforms a normal folding knife into a fixed knife. 
A kitchen knife for example, doesn't lock the blade, because it's already locked in a fixed blade configuration, but that doesn't make it a deadly weapon. 
However, despite the fact peeling potatoes isn't considered a warlike pastime, at least not yet, though you never know what the future holds, it must be said that legislation, case law and common sense don't always go hand-in-hand. 
It's not strictly necessary to lock the blade. Shepherds in Sardinia, who use their traditional "resolza", or farmers in the Bergamo valleys with their traditional folding "Bergamasco" knife, can't often be found with the tips of their fingers missing. 
It's important to know how to use a knife, something that can safely be learned by copying adults, as there are many wooden or plastic knives, or kit knives for children to practice with, so they can get used to how the knife works without losing their fingers. It's one of the oldest and most widely-used tools of man, and knowing how to use one properly can only be a positive thing.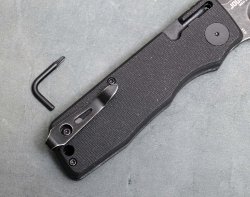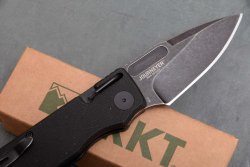 But not everyone can be trusted with a folding blade on which the blade can't be locked. CRKT has designed this knife specifically to meet this sort of demand, in particular for the subjects of Her Majesty the Queen. 
The Journeyer knife, which at a guess, means "dedicated to the Journeyman", is strong and chunky, ideal for a multitude of uses and strong enough to take some abuse too, with a G10 metal-reinforced handle, and doesn't have a blade locking catch. 
It has no back spring; the three positions it can be configured in - open, half open and closed - are easily found thanks to the stops that act on the pivot. The deceptive rustic look comes from the rough burnished blade, which gives the knife an American "stone washed" appearance.
The blade design is halfway between a drop-point and a spear-point, one eighth of an inch thick, and can be deployed using one hand thanks to the grooves and edges at the top of the blade. The tip is fairly robust; the front index finger recess means you can hold the blade near the end, making precision work easy. 
The blade clutch can be adjusted by tightening or loosening the pivot screw, and this is the real trick that transforms the knife. 
The Torx key used to adjust the screw is kept in the handle, and can easily be pulled out to use it. The other end of the key though, which is L-shaped, can be inserted through a hole in the grips and the top of the blade. In this way a strong tempered steel pin locks the blade open.