Article also available in other languages
The CRKT FE line of fixed blade knives is nothing but the industrial made version of the custom knife "Flesheater" designed in 1991 by Jin Hammond and Arcenio James Advincula during Desert Storm to create one of the most highly refined fighting knives today.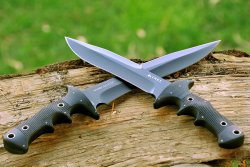 The CRKT FE project is based primarily upon Advincula's Largo-Mano Escrima and Isshin-Ryu Karate background and 24 year military service as a USMC Ret. Master Sergeant. He is also creator of the U.S. Marine Corps martial arts training program.
The first feature of the knife is the handle, developed under Advincula's fighting philosophy, facilitates maximum efficiency in four forward grip positions. Contrary to other knife fighters, Advincula is not a strong supporter of "reverse grip" or "icepick grip" (where knife is held with the blade protruding fron the lower side of the hand). His fighting tecnique is raher based on four different "hammer" or "forward" grips, each of them allowing a different result in terms of chopping or stabbing power.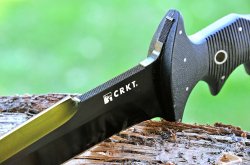 So the black G-10 handle of these CRKT knives is not designed to allow a fast switching from forward to reverse grip, but is a masterpiece of ergonomic, closely resembling an anatomical pistol grip. 
The mid-point handle drop on the topside of the handle, about two inches from the guard, combines with the finger grooves and handle contours produce the optimal pinch point combination, the key to the stability of the FE grip. 
This video has been hidden because of an external service (YouTube) that could potentially collect personal data.Allow video services for the duration of the visitAllow video servicesStop allowing video services
Its hourglass contours, combined with these opposing pressure points, virtually lock this knife in the hand.

A detailed view of the four grips is featured in this video produced by CRKT.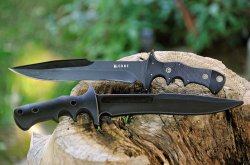 Upper guard tip and back of the blade is serrated for added grip and control.
The CRKT FE knife is available with 7,38" (FE7) and 9" blade lenght. Blade is made of 01 tool steel with black powder coating. Its drop-point design features a razor-sharp, slight recurve bottom edge along with a sharpened leading top edge. Both FE7 and FE9 blades are skilfully machined and finished and show a great resemblance with the original custom made Flasheater.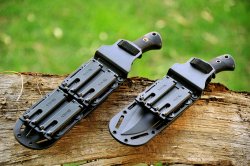 Sheath is molded black nylon with glass fiber reinforcement and has been designed to accommodate Molle clip attachments, as well as having a leg strap. It comes complete with all of the required hardware for belt or Molle attachment in either high or low positions.

In order to make training with knives easier and safer, CRKT is offering a "trainer" version of FA9 (only 9 inch blade model is available) entirely made in thermo plastic rubber with same size (but not the same feel) of the original knife.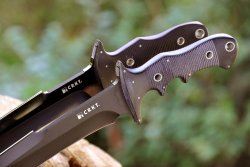 Advocates of huge knives say that "A big knives does better and faster than a small one" and maybe they are right. If your primary need is a big blade with top notch chopping ability, surely FE's are the right choice for you. 
The superlative grip and the powerful blade make them perfect choppers and, of course, a hell of self defense tool in hostile environment.
Even if designed with spcial forces requirements in mind, these knives are highly valuable for hunting and survival too.