This video has been hidden because of an external service (YouTube) that could potentially collect personal data.Allow video services for the duration of the visitAllow video servicesStop allowing video services
In this video we can see a demonstration of Al Salvitti's skills. He uses a Colonel Blade Robar trainer, a very peculiar fighting knife with a short blade and loop handle, virtually impossible to lose during a fight. Colonel Blade knives are conceived for shooters, with an angled grip that replicates a pistol grip. The experienced shooter can draw the knife in the blink of an eye, as its muscular memory is alreday trained to draw a handgun.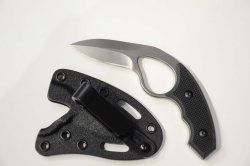 The LowVz Robar NP3, seen in the picture, is coated in an incredibly hard, resistant non-reflective finish. It provides 5 times the corrosion protection as original NP3 coating so it's the right blade to have in high humidity / salt-sea air environments. It features a 2.75" single-edged blade in N690 Cobalt steel, a 3,5 or 4.5" handle and G-10 textured grips. It comes with a Kydex Series 100 sheath with sidelock attachment and full grommet/slot array for easy attachment customization. A Colonel trainer blade is also included.
Colonel Blade sheaths are made by KRounds. Manufactured of the highest-quality 100-series Kydex, each sheath is expertly formed. Outer edges are trimmed and buffed to a comfortable finish to minimize hot spots.  Colonel Blade Knives are skillfully manufactured by FOX Knives, a renowed knifemaker located in Maniago, the "knife capitol" of Italy.