Article also available in other languages
This video has been hidden because of an external service (YouTube) that could potentially collect personal data.Allow video services for the duration of the visitAllow video servicesStop allowing video services
The combination of an accurate historical research with state of the art modern techniques gives as a result a full line of european, american and oriental swords ranging from japanese katanas to indian Talwar.
The Ventura based californian knifemaker can claim to be the only one in the world wit a staff of real life Knife fighters. President Lynn Thompson, who founded Cold Steel back in 1980 is a life long practitioner and expert of martial arts like Kali, Thai Boxing and Brazilian Jiu Jitsu. He is also highly skilled in shoot fighting, stick fighting, saber fencing, and, above all, knife fighting. He is also a skilled pistol and rifle shooter. Members of Cold Steel staff  Ron Balicki e Anthony De Longis are also acclaimed martial arts instructors, movie stuntmen and fight coreographers, appearing in several movies and TV series.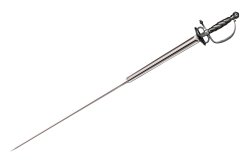 In this short clip Mr Lynn Thompson dressed as wealthy bucaneer show us some fine pirate weaponry, then gives a quick fencing lesson with Cold Steel  "Colichemarde"  sword and dagger.
Its uniquely shaped blade is extra wide at the forte then stepped down or narrowed for the rest of its length before ending in a wicked point.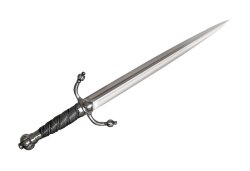 This configuration allows the sword to be used to parry or oppose even the heaviest weapons without breaking, yet remain light and supple enough to take full advantage of its lightning quick point. Cols Steel has also created a matching dagger with a stiff, ground and polished blade, double quillons, and wire wrapped handle. Dagger was usually held in the left hand and used mainly to parry the opponent blade.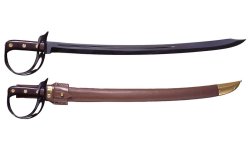 Lynn's opponent is a quite untrained pirate armed with a Cutlass sabre, the typical weapon used in the assault of ships, very fit for fighting in the narrow spaces of a boat deck. Contrary to popular belief most of the pirates were not very skilled with weapons, and spent most of their time being sailors rather than warriors, so a well trained gentleman could easily defeat such a treath. Mastering the fencing combat skills required years of training and discipline, but made the difference.